Thanksgiving is just a couple of days away and the busy Holiday season will be in full swing soon. As our social calendars (and our stomachs) are filling up, so are the streets around us. An increase in personal and commercial vehicle traffic and adverse wintery weather conditions will cause congestion and bottlenecks in many areas. Road traffic will reach a peak around Thanksgiving and before the Holiday season in December. We had a look at traffic predictions for Thanksgiving and put together tips and tricks on how to avoid road congestion.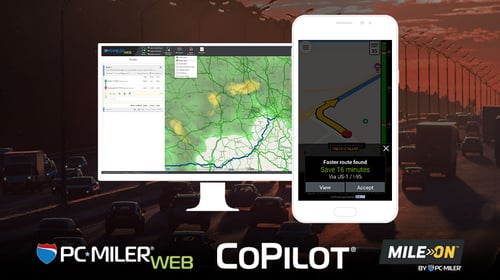 Traffic Predictions
According to the AAA (American Automobile Association) and INRIX, "54.3 million Americans will journey 50 miles or more away from home this Thanksgiving, a 4.8 percent increase over last year". Here are the traffic forecasts for the largest metropolitan areas in the US:
Worst Days & Times for Travel
Monday, November 19th, 2018
Tuesday, November 20th, 2018
Boston, Seattle 4:00 - 6:00 PM

Atlanta, Washington D.C. 5:00 - 7:00 PM

Detroit 5:30 - 7:30 PM

New York 6:00 - 8:00 PM
Wednesday, November 21st, 2018
San Francisco 1:00 - 3:00 PM

Chicago, Los Angeles 2:30 - 4:30 PM
INRIX suggests that the best days to travel are Thanksgiving Day, Friday or Saturday. Sunday will be an increase in traffic again, since travelers will head back home.
How to Avoid Road Congestion
Additionally to leaving earlier or later than the traffic predictions, you can use CoPilot's, PC*MILER Web's and MileOn's functionality to visualize road conditions during your trip:
CoPilot
CoPilot's enhanced traffic service, ActiveTrafficTM, provides an accurate live feed via an Internet connected device of traffic incidents that are relevant to your current route. The data in the United States is provided by INRIX. Activate the feature in CoPilot as follows:
Open your CoPilot app, go to Menu > Settings > ActiveTrafficTM

Enable the Traffic Service and Display the Traffic Bar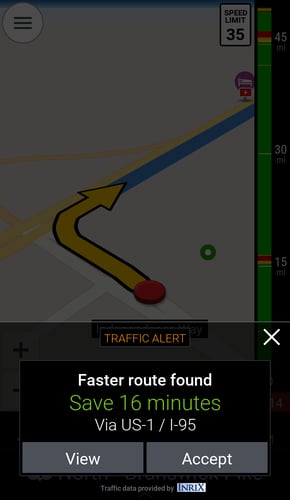 You will now see a traffic bar alongside the map showing a colour-coded view of real-time traffic conditions along your route. At the bottom of the bar you'll see the amount of time added to your ETA based on current traffic conditions. Tap on the traffic bar at any time to see a map view of traffic conditions on your route and in the surrounding area. Plus, if you are stuck in traffic and CoPilot finds a faster route, it will suggest an alternative route for you. ActiveTrafficTM is also available in CoPilot Professional and CoPilot Truck.*
PC*MILER Web
Our PC*MILER Web application for mileage calculations and route planning also offers a traffic and a weather layer:
Open PC*MILER Web and click on Map Layers

Select the Traffic Layer and Weather Layer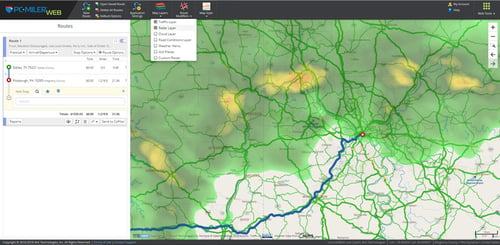 You will now see traffic and weather conditions on the map.
MileOn by PC*MILER
Our driver trip planning app provides users the ability to add in map overlays on top of their route so drivers can be aware of upcoming traffic and live weather conditions: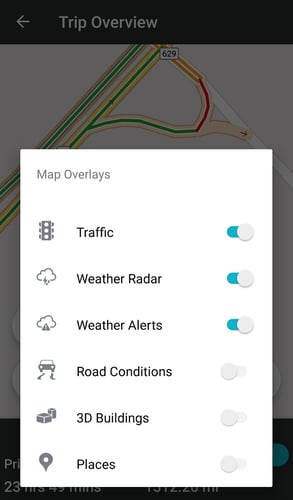 Whether you are driving a commercial vehicle, managing a delivery fleet or you're behind the wheel of your car, we wish you a Happy Thanksgiving and a safe journey!
*Additional licensing required