With school bus carriers being the largest mass transportation fleet in the United States, mapping and navigation technology is crucial to get students to and from school safely and on-time. On any given school day, the K-12 industry transports 26 million students all across the US. This results in millions of miles logged annually for drivers.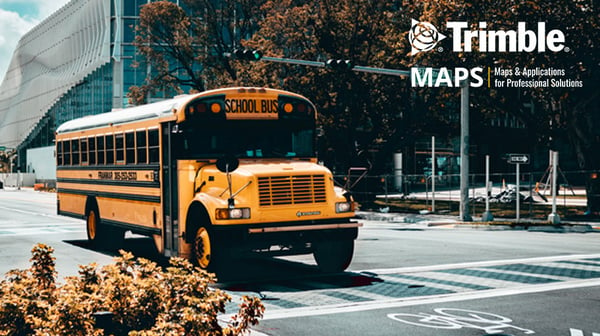 In addition to a high safety demand, there are many other daily challenges school bus fleets and drivers have to face:
Specific pick-up and drop off time windows
Need for efficient routing for bus utilization and quick, real-time route recalculation if a detour is required
Quick response when a maintenance issue or emergency arises
Staying on-time by avoiding traffic and unsafe road conditions
Substitute driver learning curve
Parents or guardians requiring current location information or school arrival confirmation for their child(ren)
What can be done to help reduce driver stress while ensuring a safer commute for students?
Our interactive mapping platform not only provides access to real-time fleet visualization, but also accurate ETA updates. Additional features include:
Easily track buses on high quality maps, including street-level satellite imagery
Geofence boundaries and locations and notifications when a driver enters or exits those areas
High volume batch and reverse geocoding
Quickly obtain dynamic ETAs based on a vehicles location and distance to destination, along with real-time traffic congestion and weather conditions
Identify speed compliance issues with post-trip analysis
Vehicle-specific navigation is also vital for safe and efficient guidance before and after the school bell rings. A companion solution to our web-based mapping and routing platform, CoPilot, provides turn-by-turn, voice-guided GPS navigation and includes the following:
Safe and accurate directions and navigation
Navigation takes into account road restrictions based on vehicle dimensions and current traffic conditions
Offline navigation for reliable routing and maps in out-of-coverage areas
Quick re-routing of vehicles or send support if a maintenance issue or emergency arises
Improvement of driver adoption and overall safety with a familiar, driver-friendly interface that reduces driver distraction
Posted speed limit display and audio speeding alerts
Over 250 API function calls to pass information between applications
Visit our Trimble MAPS booth at our upcoming K-12 events and get a guided tour of our mapping and navigation solutions! Or learn more about our solutions by clicking the banner below.
Source: https://s3-us-west-2.amazonaws.com/nsta/6571/Yellow-School-Bus-Industry-White-Paper.pdf