With winter on the horizon, fleet managers are preparing for the busiest and most dangerous time of the year. The holiday season will see fleets at full capacity and road conditions will become increasingly hazardous with freezing rain, sleet and snow.
Many fleets still manually review weather reports to help drivers navigate environmental hazards. However, it is impossible to provide accurate and timely reports through manual research. By the time the information reaches drivers, it's usually too late and they are reacting to old information.
Not only does this reduce the optimization of routes, costing businesses money, but the safety of drivers and security of cargo is at risk, too.
The Weather Alerts module in ALK® MapsTM can make manual reporting a thing of the past. It pulls in severe weather alerts from the National Weather Service and the National Oceanic and Atmospheric Administration and can be directly integrated with internal alert systems. Additionally, it's real-time, meaning accurate and timely information is always available for fleet managers and their drivers.
SAMPLE WEATHER OVERLAY & ALERT ON ALK® MapsTM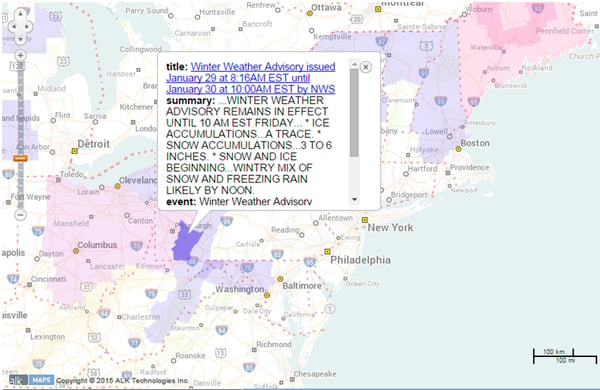 Transport America recently integrated Weather Alerts into its fleet logistics system and has seen a number of benefits, including the ability to proactively contact drivers and make sure they are aware of weather situations and ensure their safe passage. Transport America is also using Weather Alerts to look ahead at future routes to understand which ones might be affected by weather. They have the information far enough in advance to make the decision to re-route ahead of storms or, if needed, reach out to clients to schedule earlier or later pickups and deliveries.
Did we mention that the Transport America's use of ALK Maps' Weather Alerts won them the CCJ Innovator of the Year Award?
ALK published a Case Study on Transport America's integration of its Weather Alerts Module. Check out the whole story!
SAMPLE TRANSPORT AMERICA WEATHER ALERT ON ALK® MapsTM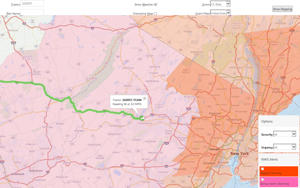 The ALK Maps platform has limitless possibilities. Please complete our contact form and one of our dedicated ALK Maps experts will contact you to schedule a personalized, tailored demo to fit your specific business needs.