As climate changes continue to impact every element of the global supply chain, DPD Deutschland—a franchise of DPDgroup, one of the largest international parcel carriers in Europe—has led the way in transforming its business. To reduce its emissions and make its deliveries more sustainable, DPD Deutschland asked Trimble Maps to help optimize their operations through technology. Here's how our solutions got them on the path to achieving their goals.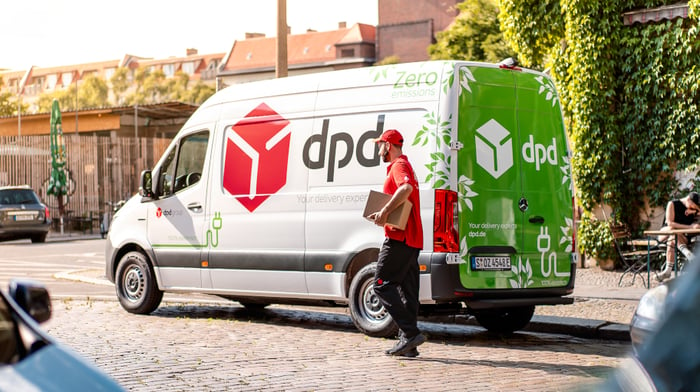 With their corporate headquarters located in Aschaffenburg, DPD Germany's parcel supply chain covers 80 franchise depots, 9,500 employees and over 13,000 drivers, all involved in the delivery of approximately 2 million packages to businesses and consumers per day via a mixed fleet of vehicles that includes electric vehicles.
DPDgroup is a strong leader in driving emissions reductions, with a vision to become the international standard in sustainable delivery by 2030. Per parcel, DPDgroup has reduced its CO2 emissions by 18.8% since 2013, and is on-track to reach a 30% reduction by 2030.
One of DPD's most innovative and popular service offerings is called Predict, which allows parcel recipients to track the progress of their delivery in real-time, and provides an estimated one-hour delivery window and updated notifications along the way.
Since 2014, Trimble Maps' portfolio of solutions has played an integral role in not only helping calculate this one-hour delivery window, but also providing turn-by-turn navigation to DPD drivers on the road. The end result? Less overall travel time, more successful first-time deliveries and fewer emissions.
Optimizing Routes
DPD was the first, and still is the only parcel carrier in Germany, that provides recipients with an estimated one-hour delivery window. With millions of packages delivered to consumers every day, it's crucial that DPD works with leading technology providers like Trimble Maps to ensure that routes are calculated accurately, to ensure the greatest chance of success for first-time deliveries.
"We calculate [a one-hour delivery window] for every parcel," said Matthias Dobrick, project manager operations, at DPD Germany. This market-leading service is made possible in part by the integration of Trimble Maps' route optimization and mapping web services platform, known internally as DPD Maps.
Accurate delivery windows and real-time notifications provided by the Predict service, powered in part by Trimble's technology, helps DPD Germany make more successful deliveries on the first attempt, reducing mileage, time and fuel spent on future attempts. Because recipients have more visibility into and control over the delivery window, they can reschedule deliveries as needed for future days/times or perhaps to a convenient dropoff location. This reduces emissions created by multiple return trips.
DPD Maps calculates an optimized route for drivers, who are then able to manually sort the stops and change the route to best fit their preferences. Once routes are locked in, Trimble's commercial navigation application, CoPilot, is there in the cab, providing real-time directions to ensure that drivers arrive to each stop safely and on time – again, reducing emissions caused by taking wrong turns or missing a stop.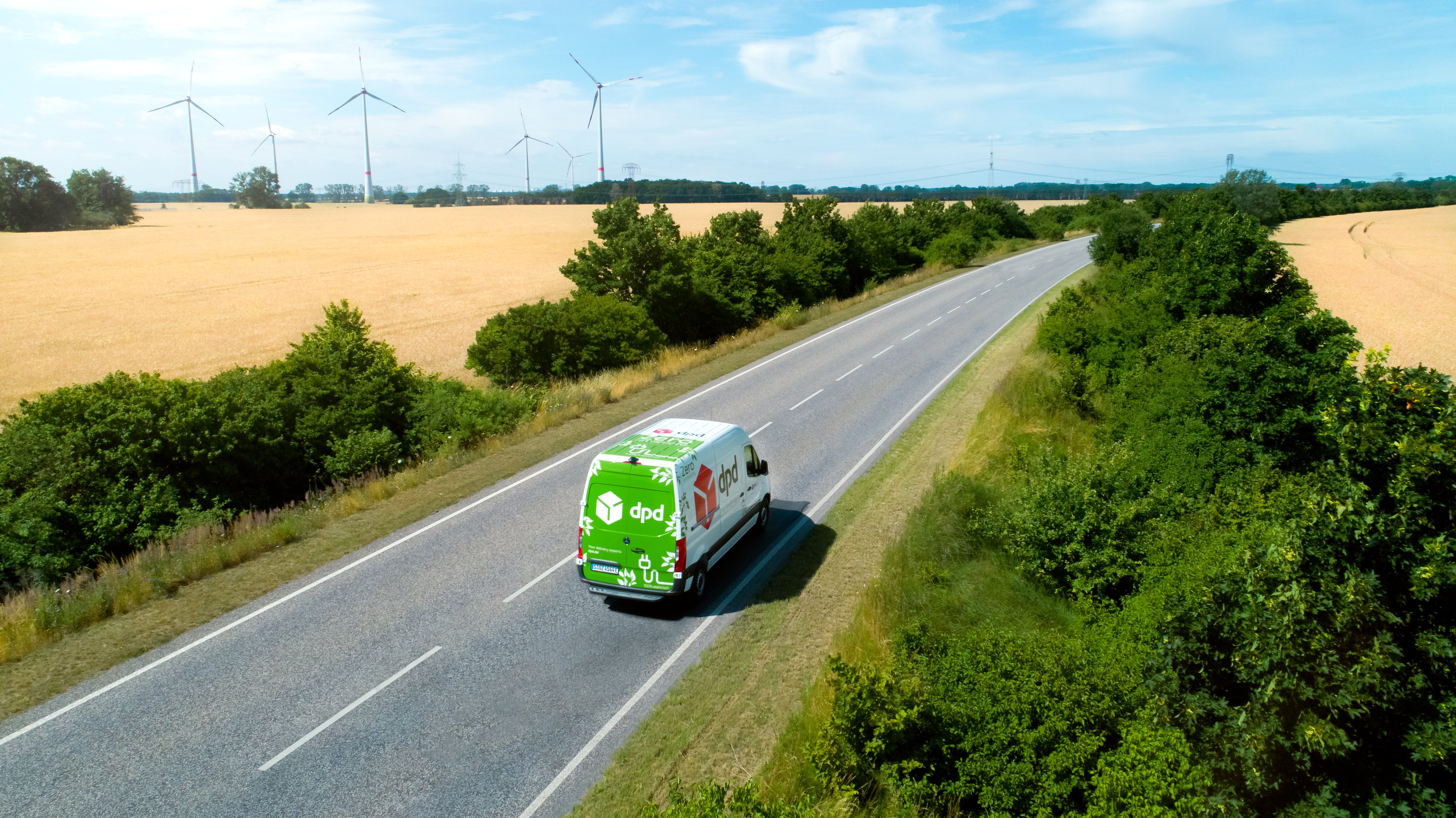 Post-Trip Analysis
Once a driver's route is complete for the day, DPD has the ability to compare the actual route taken with the optimized route DPD Maps calculated in an easy-to-understand view that can be quickly drilled into by driver, depot and delivery time windows.
DPD Maps allows the company to visualize, share and discuss results with different stakeholders within the organization, and as a web-based service, it is easy to maintain and enhance. The solution runs every route and optimizes it, providing a detailed view on the map about each stop and an overlay of each of DPD's millions of stops, highlighting areas for improvement.
"We can see things like if a driver had used the optimized route, they could have saved an hour," Dobrick explained. "We give this information to the depots as a service so they can better negotiate prices with subcontractors."
Dobrick acknowledges that many drivers prefer to plan their own routes – so giving drivers the flexibility to plan out their day as they see fit gives them control over their schedule; while the solution gives the back-office access to the data that allows them to determine if there are cost or time savings that could be realized by using more optimized routes.
"We don't force drivers to use the optimized routes, that's not our business… we offer this to depots and say, 'If you find a route that loses an hour every day, you may want to talk to that driver [about the optimized route], and that could save you some money,'" Dobrick said.
When it comes to sustainability, Jean-Claude Sonet, executive vice president of marketing, communications and sustainability, said it best: "At DPDgroup, we are pioneering a truly sustainable business. It's what drives us every day. We aim to be a force for good in the world, joining forces with customers, consumers, suppliers and other stakeholders to make a positive difference to people, our planet and to the communities we operate with. … Because wherever we live on Earth, we all share the same address."
How Trimble Maps Can Be Part of Your Sustainability Story
Trimble Maps is dedicated to transforming journeys through innovative routing, scheduling, visualization and navigation solutions. Rooted by map data and map-centric technology specifically designed for commercial vehicles, its development platform and trusted products are made for a broad range of industries, workforces and fleets of all sizes.
For more information about Trimble Maps or to request a demo, complete the form below.