In the last few years, the trucking industry has undergone some serious changes: From the emergence of electric trucks (see Mercedes, Tesla) to the digitalization of the back office and truck cabin. But what about innovations when it comes to safety?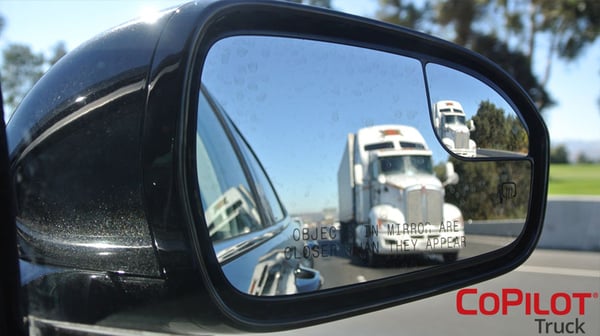 In the US, the U.S. Department of Transportation reported a staggering number of 4,209 bridge strikes in 2014. In the UK, there were 1708 bridge strikes in 2013/2014. According to Network Rail, this is a 9.9% increase compared to the previous year. When it comes to road accidents involving trucks, the numbers aren't much better. A 2013 study in the UK reported that,
"More than half of fatal accidents on motorways involve HGVs, despite HGVs only making up 10% of the traffic on motorways" (Source)
The FMCSA's (Federal Motor Carrier Safety Administration) statistic shows that,
"There were 11.2 fatal large truck crashes per million people in the United States in 2015, a 6-percent increase from 2010" (Source)
Needless to say, truck safety is a vital issue for truckers, fleets and road users in general. So, what are some of the innovations that can help improve road safety?
I Spy With My Little Eye
One of the biggest safety concerns for truck drivers are blind spots. The most obvious help for a driver's visibility are the good old mirrors. For increased safety, truck owners should install the full set of mirrors including front projection mirror, side close proximity mirror, wide angle rear view mirror and of course the plain rear view mirror. Additionally, you can use blind spot detection systems. Ultrasonic sensors can detect obstacles in the rear, front corner or side of the vehicle and warn with an alarm. Plus, there are side view and 360 degree cameras that provide the driver with visibility when reversing or performing a difficult turn. Some manufacturers have gone a step further and trialled a rear screen that helps car drivers overtake trucks. Samsung has shown how technology can help all road users:
Driver Controls
What are some of the safety systems the big truck manufacturers have been integrating into their vehicles? Thanks to advanced camera, GPS, radar and sensor technology, truckers and fleet managers can take advantage of a variety of systems to help the driver and haulage arrive safely.
Cruise control anticipates the road and vehicle traffic ahead; Lane departure warnings alert the driver if there is an unintended lane change; Vehicle stability systems help keep the truck in balance in case of a sharp turn; Advanced braking warns the driver if there is an obstacle ahead and will brake if the limit is exceeded.
Do You Know Where You're Going?
We've come a long way since paper maps. Since the emergence of PCs in the 90s and mobile devices on the 00s, fleet management and trucking has changed significantly. The humble paper map has been replaced by mobile devices that not only show you a map but give the driver instructions, warnings and optimized routes.
Mobile truck-specific navigation apps have been available for many years now, but some drivers still use GPS navigation that is not suitable for larger vehicles. The danger? Directions from a car GPS will route heavy-duty drivers down narrow roads or bridges that are truck-restricted. The best case is a hefty fine, the worst case an accident with vehicle damage or even injury. So make sure your drivers/you are using navigation and routing suitable for commercial vehicles.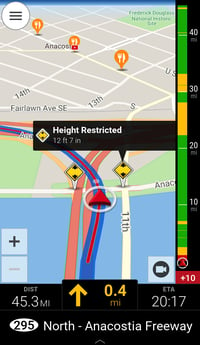 Drive safely :)
Resources
http://www.bettertransport.org.uk/media/21-10-2013-lorry-fatalities-research
https://tfl.gov.uk/info-for/deliveries-in-london/delivering-safely/safer-trucks
http://content.tfl.gov.uk/understanding-direct-and-direct-vision-from-hgvs-summary.pdf
http://www.bettertransport.org.uk/media/21-10-2013-lorry-fatalities-research
http://www.orsa.org.uk/facts-and-figures/crash-and-casualty-data/
https://www.gov.uk/government/uploads/system/uploads/attachment_data/file/556396/rrcgb2015-01.pdf