Here at Trimble MAPS, we're all about the customer experience, from our products to support. Whether it's using our apps or integrating our API's our support team is with you through it all. They are stacked with high quality and responsive individuals ready for any and all questions you can think of.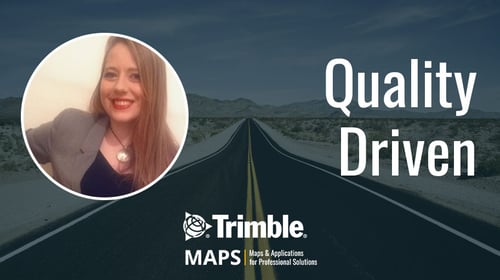 Carina Pamminger, for instance, is a prime example of what our support team is at its core. Carina has been with Trimble MAPS for 4 years and works out of our London office. Her day consists of answering your emails and calls, helping you find the answers you're looking for. She's even willing to jump on a flight and come to you to help make sure you're getting the best use of our solutions, products, and services. In the month of April Carina alone has solved 41 support tickets!
Internally, Carina has done so much to help improve the work efficiency of the support team. She, along with her team, help to construct a new unification process in Jira. Jira is our internal project tracking software. As a result of Carina and her team's hard work, their improved structure enables faster analysis on support tickets. This helps to resolve critical issues in a much shorter amount of time.
She also has a passion for helping to train new hires. Her enthusiasm for helping new employees has improved our on boarding process, making it a smoother transition. Continue to get to know Carina below!
Questions & Answers
What kind of experience did you have before starting this position? Before joining Trimble MAPS I was working for a video games company (SEGA, London) in QA, as well as personal assistant for a lawyer whilst living in Shanghai.
Why do you like working at Trimble MAPS? Working at Trimble MAPS is really fun! There are always things to discover. Additionally, the people working here are amazing. There is so much to learn, even during a water cooler conversation.
How would your coworkers describe you? A highly professional goof-ball, that knows stuff about stuff and answers questions with way too many words.
What's one skill a coworker has that you wish you had? Swift and Java programming language and patience with slow devices.
If you could pick a new skill in this instant what would it be? Coding (any language) and advanced math problem-solving skills.
What is your motto or personal mantra? "No master has ever fallen from the sky." (German proverb) and "Only those who have never done anything, have never failed at anything." (German proverb)
We love having you on our team Carina, people like you make working here so much better!
If you are interested in becoming part of the Trimble MAPS team, check out our careers pages. We are hiring >