One of our most exciting new features implemented in PC*MILER 25 is real-time, predictive and historical traffic! Through a partnership with INRIX, a leading international provider of traffic information and driving services, traffic speed data is now available with PC*MILER 25. Users can see real-time traffic maps as well as access traffic forecasts for more than 1 million miles of roads across the United States and Canada.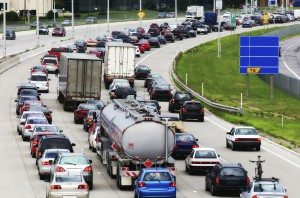 To introduce this innovative capability to customers, this valuable traffic speed data is included free of charge in PC*MILER 25 and will remain so until the release of PC*MILER 26 in 2012.
With this new feature, PC*MILER 25 is designed specifically to help control costs and allow users to operate more efficiently. Now you can monitor congestion in real-time to avoid traffic incidents, make better pricing decisions, improve hours-of-service compliance, and enjoy more accurate transit times and ETAs.
For more information on PC*MILER 25 and traffic features contact a sales representative at 800-377-6453 or email sales@pcmiler.com.