We care about drivers and their safety. That's why we've created CoPilot Truck. Our unique offering provides drivers: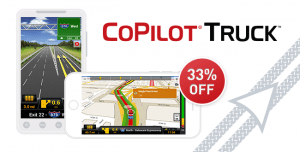 Safe, reliable, truck-specific navigation
Voice-guided, turn-by-turn directions
Map data stored directly on your device without the need for a mobile data connection
Our experts are in in Dallas, Texas at GATS from 10AM-5PM today and tomorrow at Booth #18158.
Visit our booth for a CoPilot Truck GPS Navigation app discount code of 33% off and leave with some cool freebies! You can even enter to win the CoPilot Truck app for free while you're at it!
Sale price is for a limited time only - don't miss out on connection to real-time ActiveTraffic™ and millions of truck specific POIs.
Want CoPilot Truck? Download Now