Hurricanes along the gulf and eastern coasts, blizzards in the upper Midwest, tornadoes in the Great Plains, and severe heat waves in the west. No matter where your assets are, or what time of year it is, weather can have a serious impact on travel.

Did you know that traffic speeds on freeways can reduce as much as 13% with simply light rain and snow, and up to 40% with heavy snow?¹ Precipitation can also cause reduced visibility and slippery road surface conditions, resulting in vehicle traction issues, significantly increasing accident risk.
Weather conditions are constant - and constantly changing. Using real-time information and displays directly on a map can significantly reduce time spent manually researching using multiple systems to get the latest data, delays due to traffic as a result of weather conditions, and risks to driver safety.
Here are some of the weather overlays that can be deployed in various ALK solutions that will help you make the best business decision possible, while keeping drivers safe, and customers satisfied: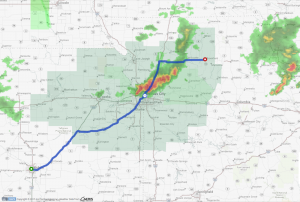 View

real-time radar

, color coded by severity, for areas affected by precipitation

Display a

road surface condition

layer, color coded by type, showing if roadways are wet, snow covered, or have ice

Weather alert areas

, identified by colored polygons, showing winter weather advisories, severe wind, thunderstorms, flood

warnings, etc. Alert details, including a short summary, effective and expiration times, and severity levels
Remember, all of these overlays can be used on top of your route plans, so you can see the direct impact. From this information, you can decide how to best proceed.
The benefits of using weather data and display are clear as day… but here is a quick list, just in case:
Proactively detour drivers on safe, legal roads

Avoid costly delivery delays

Keep assets safe, drivers informed, and customers notified
Want more? Check out a detailed benefits list below: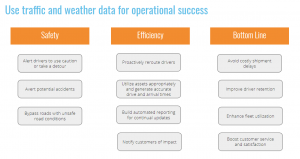 After all, you can control your trucks, not the weather!