In the first part of our series on CoPilot, we examined the importance of providing commercial-grade navigation solutions to commercial fleets and trucks. In part two, we examine some of the less obvious—but still vital—features that can be used by the back office via our companion web tools to enhance the CoPilot experience, and which help commercial transport and logistics companies and their drivers operate even more efficiently.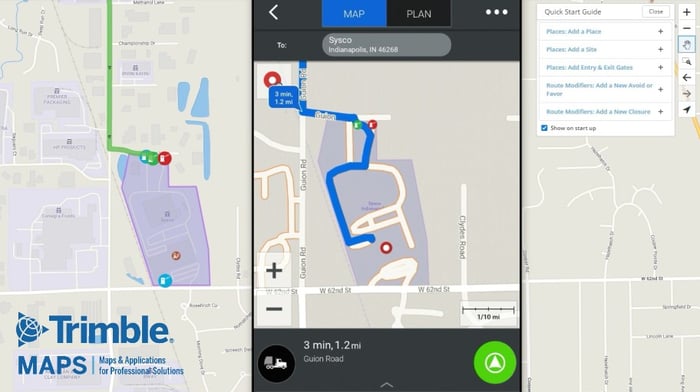 In an age of supply chain crises and driver shortages, it's more important than ever that a fleet be able to optimize their operations from a truck's departure to the last mile. Consumer demand for goods is high, but the number of drivers available to deliver them is at a historic low, with the truck driver shortage hitting a historic high of just over 80,000 drivers in 2021, according to the American Trucking Association. In many cases, working conditions have become too strenuous without enough incentive to stay in the industry, making retention an ongoing challenge.
So, how can fleets make the best use of the drivers they have available and keep their trucks moving, all while ensuring they retain those drivers? There's no one-size-fits-all solution, but we believe the technology we provide those drivers can be a key component of it.
We've designed CoPilot to be a navigation tool for the commercial trucking and transport industry, but users may not realize that its capabilities go far beyond turn-by-turn directions. In addition to supporting drivers' in-cab activities, CoPilot can also take advantage of several web tools designed to support the back office with features that make routes more efficient and safe. Below, we explore some of the key capabilities that can be utilized in our back office web tools to enhance the driver's in-cab experience while using CoPilot.
Places & Sites
Many navigational tools built for consumers fail to take into account the difficulties of navigating a large commercial vehicle laden with heavy loads and limited in their maneuverability. This is especially true when it comes to directions for how to visit the kinds of locations trucks frequent, such as warehouses, storefronts, distribution facilities, and more. Not only are consumer navigation tools often inaccurate when it comes to these kinds of locations, but when a driver arrives, an entrance easily accessible to a car can be extremely dangerous for a truck.
In a recent survey from Bobit Business Media, more than 40% of fleet managers asked said driver safety was a top concern when it came to last-mile delivery, which is itself "expected to post a year-over-year growth rate of 16% between 2021 and 2025" and increase the number of entries and exits accordingly.
This is just one of the many problems our "Places'' data within CoPilot solves. Places provides hundreds of thousands of predefined commercial locations with polygonal GPS perimeters—"geofences"—and truck-specific entry and exit gates, helping to eliminate delays when drivers are trying to find the right location, improve ETAs, and avoid dangerous maneuvers in the event of a wrong turn. In addition to helping optimize routing and navigation, Places include numerous attributes, such as hours of operation, relevant phone numbers, and available amenities, but Places can be further customized with notes or additional information a driver might need when they arrive at that location. In addition, fleet managers and dispatchers can create their own locations and gates. The CoPilot application recognizes these places and directs a driver to the designated gate, and prompts them with whatever information they need.
When it comes to transport and logistics, the safe delivery of cargo is critical, but accurate arrival times are nearly as important. Customer satisfaction depends on the frequency with which you meet the delivery dates and times you've promised. How can you more effectively monitor your vehicles' arrivals and departures and give your customers the most precise updates on their delivery?
Our "Sites" feature within Places helps fleet managers and dispatchers more quickly and accurately determine when a truck's GPS marker passes into or out of a location by leveraging our predefined geofences or by creating custom geofences around locations. In the case of both Places and Sites, geofences and the data they produce can be integrated directly into the Transportation Management System to provide numerous operational advantages. Instead of requiring a driver to give the back office or an individual at a receiving location a call, the carrier can automatically alert that individual that their shipment has passed certain checkpoints or has arrived at a location. Not only does this improve customer experience, but this information can be critical when it comes to high value cargo or time-sensitive materials that are difficult to handle or require special attention.
Further, geofencing with Sites allows fleet managers to gain more valuable insights into their drivers' detention time at different facilities. A 2019 survey from American Transportation Research Institute indicates that detention times exceeded two hours in nearly 50% of deliveries and pickups, wasting a tremendous amount of time and costing businesses money. By looking at the data Sites provides, managers can analyze how and why this time is wasted, make necessary improvements, and better optimize their routes.
Avoid & Favor
In a given year, commercial drivers can encounter any number of adverse conditions on the road that are not as easily planned for as directions, weather or traffic. Road closures, detours, construction and unexpectedly complex roads or intersections can cause unnecessary dangerous maneuvers, while speed traps and popular spots for police patrols can impact an operation's bottom line. Moreover, there may be a segment of a route that consistently presents safety risks, and that a company may want its drivers to avoid. It's important for dispatchers and fleet managers to have a way of incorporating this important information about a particular route into their planning, so their drivers don't encounter these challenges in the future.
The "Avoid and Favor" feature is specially designed to help the back office focus on a specific section of a planned route and designate a preferred approach to that section and navigate a driver toward or away from it. In the case of "Avoid," the routing system will automatically avoid the road and prevent a driver from using it, while in the case of "Favor," the driver will be directed toward the specified road. In both cases, comments can be added by managers to explain the exact reason behind the preference, which will display for anyone planning a route that might intersect with one of the designated roads or locations.
Get Started Now
Fleet managers and dispatchers can take advantage of these features via our CoPilot's back office web tools. Just as CoPilot's navigation can be customized to match a vehicle's profile, each of these tools can help customize a driver's experience. In addition, any customer interested in integrating these tools directly into their application in development can do so via APIs. Visit our Developer Portal to learn more.
Whether a fleet is large or small, when deployed fleet-wide, these advantages are multiplied in their impact and efficacy, saving time, avoiding dangerous maneuvers, and ensuring customer satisfaction at scale. CoPilot might be a navigation tool first, but each of these features helps optimize the driver experience, avoid delays, and make sure you're using your resources efficiently. To start implementing CoPilot across your fleet, please visit our detailed information page.