---
Congratulations Transport America on the honor of being named CCJ's 2016 Innovator of the Year!
We've always known you were true innovators, especially when you asked us to join you on a project to create a fully automated, one-of-a-kind mapping solution that would quickly identify a weather systems' impact to route plans and notify Fleet Managers. We're thrilled to know that the Weather Alerts' module within the ALK Maps platform resulted in fewer weather-related accidents and improvements in customer service. We're also proud to have partnered with a company that focuses on driver safety by rerouting trucks around alert zones and empowering drivers to shut down if they become uncomfortable in certain weather conditions. Once again, congratulations on all of your success!
For more complete coverage about Transport America's achievements, read the full CCJ article.
ALK published a Case Study on Transport America's integration of its Weather Alerts Module. Check out the whole story!
SAMPLE TRANSPORT AMERICA WEATHER ALERT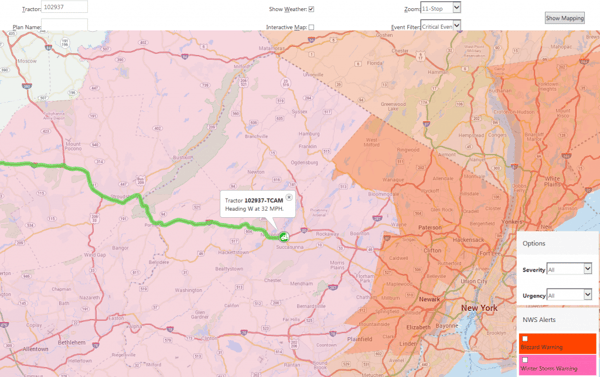 SAMPLE WEATHER OVERLAY ON ALK MAPS