2018 at ALK has been full of energy, innovation and forward-thinking. Here, we look back at some of last year's product updates, trade shows, events, charitable work and people. Over 50 blog posts and over 130 tweets later, here are the highlights of 2018: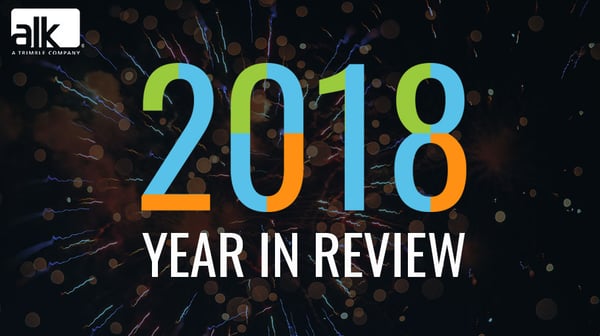 New Products & Updates
Our first big product release of the year was MileOn by PC*MILER. Powered by ALK's flagship PC*MILER® routing, mileage and mapping software, MileOn is a much-needed tool for trip planning, scheduling hours of service (HOS) breaks and choosing the right rest stops for your needs while staying DOT compliant. The app also offers drivers crowdsourced truck parking. Truckers can download MileOn for free on the Google Play Store.
Looking to get the most out of your miles? We are excited to announce the launch of our innovative driver trip planning app — MileOn™ by PC*MILER. Our new app helps you plan your trip with stops based on your Hours of Service. Find out more! https://t.co/9vk150NvoT

— ALK Technologies (@ALKTech) 15 June 2018
Shortly after, we released version 32 of PC*MILER. The software utilizes new cloud technology and enhanced functionality. Version 32 lets users easily create and manage custom content and share that content with colleagues for more efficient and consistent operations. Get your free trial now.
Ready. Set. Go. Define your journey with PC*MILER 32 https://t.co/550kfwmb8W pic.twitter.com/57EEb5YGsc

— ALK Technologies (@ALKTech) 5 July 2018
Later in December, we released CoPilot 10.9 which brings enhanced navigation, routing, guidance and ETAs to help maximize fleet safety, compliance and efficiency. Version 10.9 features Side of Street routing, map routing views, ETA alerts and much more.
10.9 CoPilot Update Now Available - We have just released a new CoPilot update, which brings enhanced navigation, routing, guidance and ETAs to help maximize fleet safety, compliance and efficiency. Learn more n #copilot #updatehttps://t.co/O93H2eRvzn

— ALK Technologies (@ALKTech) 11 December 2018
How We Are Helping Across Multiple Industries
Together with our partners, we support businesses working across multiple industries with our software solutions. In 2018, we had a closer look at how mapping, routing and navigation technology can help companies in such diverse industries as Transport & Logistics, Emergency Services, Utilities and K-12. We also examined how to embrace the final mile in the postal, parcel and courier sector.
🚚 🎄 In the run-up to the busy holiday season, it's time to take a look at one of the biggest industries we serve: Transport & Logistics. Learn more about how tech can help companies deliver #t&l #transport #logistics #truckinghttps://t.co/p3FgNg9Yov

— ALK Technologies (@ALKTech) 29 November 2018
A Record Number of Trade Shows
In 2018, our teams attended over 55 trade shows and industry events across the globe. We connected with customers and partners, spoke at conferences, took part in industry thought leadership panels, and exhibited the latest products in our newly designed trade show booths. Some highlights include LogiMat, MATS, GATS, TMW's & Peoplenet's in.sight user conference, PostExpo, Trimble Dimensions, the 3PL Supply Chain Summit and many more.
🚚⛓️ You're attending the @eyefortransport 3PL & Supply Chain Summit in Düsseldorf today? Don't miss the panel discussion "Embrace the digitalised future of logistics". Rishi Mehra, ALK's Director of Web Products will be part of the panel #3plhttps://t.co/U6O6jSmbHO pic.twitter.com/AyK2Ks1w8d

— ALK Technologies (@ALKTech) 30 October 2018
Quality Driven
The people of a company define the nature of its success. In our blog series "Quality Driven" (part 1 & part 2), we shined a light on some of our employees and found out how they contribute to ALK's growth. At the end of the year, we celebrated our employees by creating a company video called "Working at ALK":
ALK Gives Back
ALKers have always cared about giving back to our local communities and in 2018 we ramped up our efforts under the motto "ALK Gives Back". We supported multiple charities and worthwhile causes across the globe.
In our "Day of Service" initiative, we supported three local programs with over 45 volunteers supporting environmental and community projects between our Princeton and London offices.
👐🤗 A team of ALK volunteers have been touching the lives of vulnerable people in London with acts of kindness at @weareaceofclubs community centre. We prepared and served yummy wholesome meals to over 200 people this April #alkgivesback #charity #wellbeing pic.twitter.com/rxYuhKt7Ta

— ALK Technologies (@ALKTech) 30 April 2018
Through the ALK ugly holiday sweater fundraiser, our US offices donated to Wildfire Relief Fund while our European offices donated to Save the Children and Les Blouses Roses. The Princeton office also hosted their 12th annual food donation drive for Thanksgiving while our London office continued its tradition of donating toys to Great Ormond Street Hospital (GOSH) . The London office also started a new initiative to donate food, clothing and employee time to Ace of Clubs, a community centre to help vulnerable people.
ALK is also honored to have aligned ourselves with St. Christopher Truckers Relief Fund in the US and Eastern Alliance for Safe and Sustainable Transport (EASST) in the UK as corporate charity partnerships.
Raising the Bar
We kicked off the year with employees taking part in a two day event including multiple knowledge sessions and innovation labs as part of our Raise the Bar series. Innovation is at the heart of our business and has always played an essential part in ALK's success. What better way to explore innovation than with our very own innovation labs? Employees were split into teams and challenged to brainstorm a new innovation for the company, based on a topic that was dedicated to their team.
👨‍💻What is innovation? As a technology company in a fast-paced industry, innovation must be at the heart of how we provide the best solutions to our customers. Find out how we think big in our innovation labs https://t.co/O27UEORMvd #RaiseTheBar #Innovation #ThinkBig pic.twitter.com/LOVjM3jSMC

— ALK Technologies (@ALKTech) 16 February 2018
In the summer, ALKers were encouraged to further their own professional development under the motto "Let's Learn". Everyone at ALK had access to LinkedIn Learning, an online learning platform to help employees achieve professional aspirations and help develop them professionally. ALKers were able to choose from a variety of online self-paced courses and ended up completing 450!
Let's Celebrate
We also found time for team building throughout the year to get to know our colleagues better. These events included our annual Holiday Party, Field Day excursions, BBQs, Bowling and our Summer Day out:
🎲🏅☀️ The ALK team in Europe enjoyed their summer team building activity....playing the Game of Zones! The team was pushed to the limits to complete a mix of interactive and fun challenges around spectacular landmark attractions in London. pic.twitter.com/4SgFFjokmh

— ALK Technologies (@ALKTech) 29 June 2018
In November, we celebrated the 40th birthday of Trimble in style with cake and matching outfits:
Happy 40th Anniversary @TrimbleCorpNews ! #trimble pic.twitter.com/9DL2KRkKJf

— ALK Technologies (@ALKTech) 16 November 2018
2019 - The Year to Improve Your Business
We are already working on some big updates and innovations to improve your business and transform journeys in 2019, so stay tuned.
We thank all of our customers and partners for being by our side in 2018 and are looking forward to a successful new year together!