This year we are proud to have supported several charitable organizations from around the world, including non-profits that are focussed on helping those who serve the transportation industry.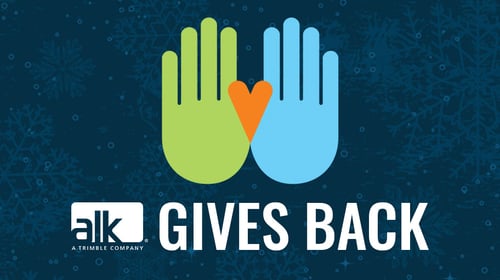 Corporate Charity Partnerships
ALK is honored to have aligned ourselves with St. Christopher Truckers Relief Fund in the US and Eastern Alliance for Safe and Sustainable Transport (EASST) in the UK as corporate charity partnerships. Our aim is to support the industry we serve and to be involved with organizations that truly make a difference on an individual and national level.
ALK Day of Service
We continued our ALK Day of Service initiative this year, which encourages our employees to volunteer for a nonprofit organization or local community. We supported three local programs with over 45 volunteers supporting environmental and community projects between our Princeton and London offices. A group of 20 volunteers from the Princeton office donated their time to help clean up New Jersey's beaches and waterways by removing a record 3,583 items of debris at Sandy Hook beach. In London, 25 volunteers helped to prepare and serve hot meals to over 400 people at Ace of Clubs during our community programs this April and December.
👐🤗 A team of ALK volunteers have been touching the lives of vulnerable people in London with acts of kindness at @weareaceofclubs community centre. We prepared and served yummy wholesome meals to over 200 people this April #alkgivesback #charity #wellbeing pic.twitter.com/rxYuhKt7Ta

— ALK Technologies (@ALKTech) 30 April 2018
Donations & Fundraising
Through the ALK ugly holiday sweater fundraiser, our US offices donated to Wildfire Relief Fund while our European offices donated to Save the Children and Les Blouses Roses.
The Princeton office also hosted their 12th annual food donation drive! This year we donated to the TASK (Trenton Area Soup Kitchen) an organization that provides Thanksgiving meals to those in need. Our London office has continued its tradition of donating toys to Great Ormond Street Hospital (GOSH) to put a smile on children's faces during the holiday season. The London office also started a new initiative to donate food and clothing to the Ace of Clubs community centre to help vulnerable people in the City.
🚚📦 ALKers from the London Office had a busy morning already transporting all our donations to Ace of Clubs, a south London community providing support for those who are homeless, vulnerable and otherwise marginalised #charity #alkgivesback pic.twitter.com/goA6uWaDpx

— ALK Technologies (@ALKTech) 5 December 2018
We were also a key sponsor at the Princeton HiTops Half Marathon, an organization that provides health education & support for adolescents. The Princeton Office not only participated but sponsored a water station to keep the runners hydrated! We are proud of our 17 runners, which included two Senior Vice Presidents.
🏃‍♀️🎽🏃‍♂️Congratulations to our @PrincetonHalf Marathon runners. Well done to everyone involved and thanks for representing @ALKTech! #princetonhalf #ALKruns pic.twitter.com/2oj7eM5CVD

— ALK Technologies (@ALKTech) 5 November 2018
ALK also provided sponsorship to our partner, Microlise, who had a team participate in CycleZambia, a 490km cycling challenge in 5 days through Zambia in support of Transaid.
We are very proud of these partnerships and happy we are able to give a gift that gives. Stay tuned for updates on philanthropic events and efforts in 2019.