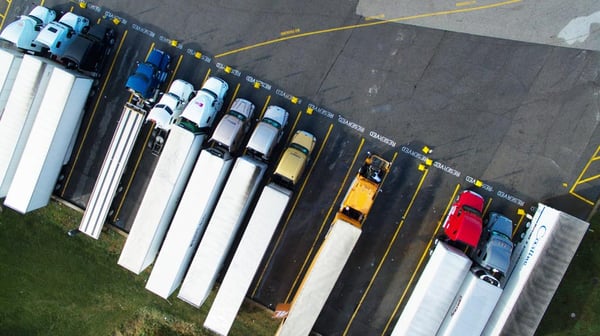 Being a fleet manager isn't the easiest job in the world. Truck fleet managers in particular face challenges every day: Managing drivers and keeping them on track, scheduling and maintaining vehicles, an increase in budget scrutiny, being your company's crisis manager and - the ultimate goal - making your customers happy. Technology can lend a helping hand in facing these challenges. How can CoPilot Truck help?
1) Optimal Routes
With CoPilot Truck, you receive commercial route planning and route optimisation that takes into account the vehicle's dimensions, weight and load. Plus, see truck-restricted and prohibited roads to find the optimal route for any itinerary. Reduce the risk of costly bridge strikes and collisions and boost your route compliance.
2) Cost-effective
CoPilot Truck provides a comprehensive, cost-effective fleet solution to maximise fleet-wide productivity, lower costs and help fleets maintain true route compliance. Maximise revenue and your bottom line with overall reduced fuel and operating costs
3) In-Cab Navigation
Trouble keeping your drivers on track, happy and safe? Empower your drivers with highly accurate, safe truck-legal navigation. CoPilot Truck offers voice-guided, turn-by-turn directions with spoken street names from origin to destination. Reduce driver distraction in the cab with clear 3D and 2D map views plus Driver Safety Views for at-a-glance instructions. Find out more about CoPilot Truck's in-cab navigation.
4) Post-trip analysis and integration with back-office tools
An efficient fleet management solution doesn't start or stop in the truck cabin. Send routes to drivers and measure driver performance through post-trip analysis of the planned versus actual route with ALK's back office and analysis tools. CoPilot Truck integrates with ALK's PC*MILER and ALK Maps so say goodbye to running dozens of non-integrated systems. We've got you covered.
5) Precise, dynamic ETAs
Make your customers happy and provide on-time deliveries with precise, dynamic ETAs based on real-time road conditions.
To find out more, visit our brand new truck website here or speak with us directly by tapping on the green SPEAK WITH SOMEONE button on our truck website.