Have you registered for the In.sight User Conference yet? Like most other events, it has gone virtual - and we're pleased to announce that we've got a lineup of educational sessions presented by our very own Trimble MAPS experts! Whether you're an existing customer or interested in learning more about what our solutions offer, we have a session for you. Below is this year's line up.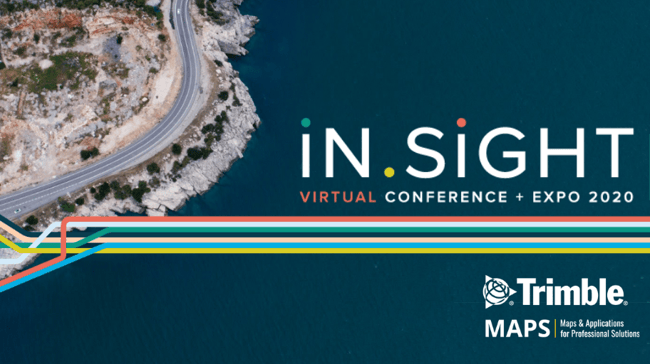 Master Data Management in Appian DRTrack
Presented by Kelly Wood, Implementation and Training Consultant
August 25th | 1:15 PM- 2:00 PM (CT)
Discover the true impact of how Master Data Management (MDM) can impact everything from the core route optimization to critical errors in performance metrics. Learn best practices around how to effectively perform Master Data Management in DRTrack.


Appian DRTrack Dispatch and Execution
Presented by Stephen Jackson, Implementation and Training Consultant
August 26th | 10:45 AM- 11:30 AM (CT)
How can one efficiently manage daily order volume fluctuation, capacity changes, and last minute orders? Learn how this is possible along with improving vehicle utilization and understanding the change impact on cost and operational constraints by leveraging Appian DRTrack.
Fixed Daily Route Management (Appian)
Presented by Kelly Wood, Implementation and Training Consultant
August 24th | 1:15 PM- 2:00 PM (CT)
Understand how to efficiently manage complex order, capacity, and resource fluctuations in the world of Fixed Routes with our robust decision support tools. Focus on determining optimal placement of new stops or account while effectively utilizing resources.
Increase Safety on the Road with Real-time Alerting and Traffic Warnings
Presented by Jaspreet Singh, Senior Project Manager
August 25th | 10:45 AM- 11:30AM (CT)
Unexpected traffic slowdowns can result in more than just delays. See how the Trimble MAPS development platform, through CoPilot in-cab navigation and Trip Management web services can provide drivers timely notification and warnings of sudden traffic slowdowns to prevent accidents, secondary injuries, and possible damages.
Verified Commercial Location Data + Achieving Operational Consistency
Presented by Rishi Mehra, Director of Global Strategy
August 24th | 12:15 PM- 1:00 PM (CT)
Having a consistent definition of a location -not just an address but the precise location- is a major challenge resulting in lost productivity and revenue. Learn how location data can be leveraged in route planning tools, provide driver guidance, plus improve customer satisfaction by communicating important location-specific information to a driver. Plus get insight into how to create your own custom content and improved efficiency across the entire transportation ecosystem.
Register now and get full access to all these sessions and more. Get access>