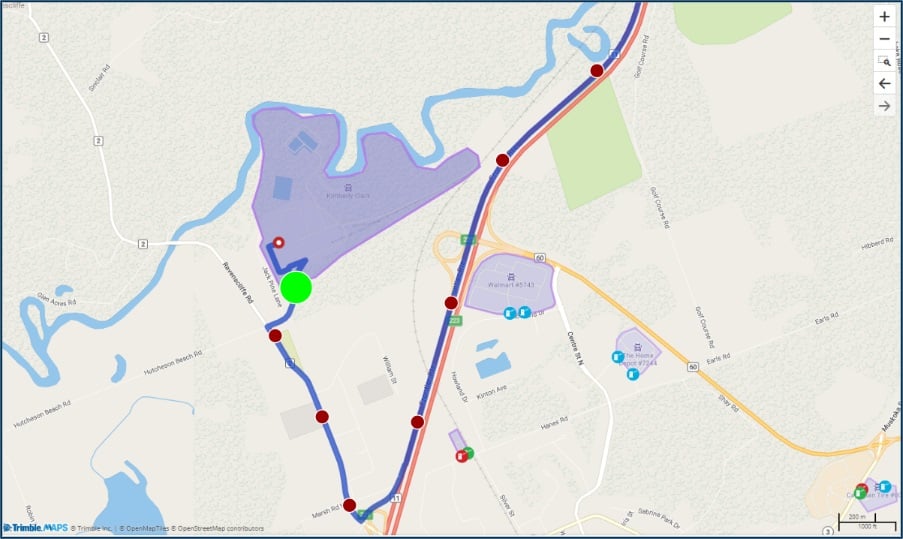 Location data is key to how the commercial transportation industry operates. From planning routes to managing time and resources, locations are in many ways as important as road and map data. Rest stops, stores, gas stations, warehouses, manufacturing facilities and more: without a clear view of these places, it can be difficult for carriers, shippers, and their teams of drivers, dispatchers, and planners to do their jobs.
For decades, however, location data has remained overlooked and undervalued. We're determined to change that with our Places API. Every day, our Geographic Information System (GIS) team continues to capture as much location data as possible, with more than 4.7 million commercial locations in North America.
We've enhanced these locations' data with highly precise polygonal geofences, hundreds of thousands of which feature truck entry and exit gates. Where companies traditionally used circular boundaries to denote a location's general perimeter, our polygonal geofences reflect a location's true size, geography, and road connections. This affords transportation companies a number of new advantages, including more precise navigation and exact arrival and departure times, more accurate dwell and detention time insights, safer facility entrances and exits, and increased efficiency and productivity.
At this year's Insight Tech Conference + Expo, we spoke with experts from NFI and Werner Transportation about the intricacies, pain points, and advancements in location data and geofencing, and how our approach to both is leading the industry.
More Safety, Less Confusion
Parking lots and delivery areas in commercial facilities are often extremely complex and crowded, made even more difficult to navigate when driving a large, heavy vehicle. Plus, distribution center addresses can be tied to front doors instead of vehicle entrances, there can be different store receiving and shipping entrances, or multi-tenant warehouses with numerous delivery options can be poorly organized.
"If the driver doesn't know the right approach into a store, they're going to be navigating a lot more parking lot than you want them to, and they are more likely to hit or bump into something," said Mike Hayden, vice president of technology at NFI. When they're moving off a highway or local road and their navigation system doesn't tell them how or where to enter a facility, the search can result in wasted time, unnecessary risks, and dissatisfied customers.
By equipping drivers with a navigation solution that uses our Places API, drivers can be guided to the exact entry point they need to access a facility. The back office can also customize location information to include additional details, such as the contact information, phone number, and custom notes about how best to get the job done in that specific facility. This adds up to streamlining the driver's experience once they've arrived.
"There's so much complexity to it," Hayden said. "The more effort we put into it, the more it's going to help the driver and eliminate the stress of navigating those types of locations."
Dan Lilley, chief technology officer at Werner Transportation, explained that by more precisely geofencing and detailing individual facilities, drivers and their back office counterparts have a firm understanding of what will happen at a location before they get there and that's immensely helpful. According to Lilley, there must be a feedback mechanism to collect entry point data and constantly improve and correct the data. "The more data you can collect and put into your system, the more you're going to benefit from it," Lilley suggested.
Enhanced Productivity & Efficiency
When it comes to broad operational benefits, accurate location data and geofences provide many. By providing a more precise geofence around a location, our Places API is able to give more precise information about when and where a vehicle crosses the location's GPS coordinates. Hayden explained that once a driver crosses the geofence boundary, their TMS will automatically record that point as the arrival time, making the process more efficient by removing manual data entry.
Having the most precise geofence possible around a location can also provide the back office with improved visibility into arrival and dwell times, enabling them to see how much time is spent in a location and investigate ways to reduce that time and increase productivity. And by automatically incorporating this dwell time data into the operation's workflow, the back office can see in real time when a driver exited, adjust ETAs for subsequent deliveries, and alert customers to any possible changes.
Fleet owners and carriers are also looking at using Places analytics to improve trailer location processes, which would play a key role in improving dwell time efficiency. Hayden shared he's had many conversations with frustrated drivers that spend too much time looking for a trailer in the yard or going yard to yard across a campus. "A big part of what we've been looking to tackle is how do we increase driver productivity by eliminating the time spent running around looking for a trailer," Hayden said.
"Being able to aggregate all your trailer and GPS data, marry it up against transportation management system data, and leverage content tools to understand realistically where that trailer is sitting makes your driver plan more efficient," Hayden added. This thereby increases fleet availability and can dramatically reduce asset downtime.
Reduced Driver Frustration
Hayden shared that numerous challenges arise from incomplete or incorrect location data and that drivers often bear the brunt of those challenges. For instance, when two drivers are entering the same commercial location, but only one of them has the right directions or special instructions associated with how to enter the location, confusion (and frustration) ensues. "It's really a matter of backing everything up and getting that firm understanding of what your driver needs to see and consume [to be successful]," Hayden said.
Hayden explained that NFI is constantly monitoring what data is coming into its transportation management system (TMS) from drivers, how it ties back to commercial entry points and how to stay ahead of it. That data collection and analysis has been a big help for drivers, he said. "Our drivers generally appreciate it," Hayden said.
He also shared that after initially collecting a lot of driver feedback, they are at the point now where incoming feedback is minimal, which demonstrates a high level of integrity from the data in the system, as well as driver satisfaction with what it provides them. By continuing to update location data in our Places API with the most precise polygonal geofences and entry and exit gates possible, we'll continue to support drivers, increase their safety, and ensure transportation companies are operating at their best.
---
Click here to learn more about how our Places API can benefit your business. Or, complete the form below and a member of our team will soon be in touch.