Truck drivers overcome more obstacles than you can think of during their work day. From traffic, to bad weather, to unexpected repairs, lots of events can derail their day. One issue that not many people think of until it happens is parking: "But parking is so easy, you just find a spot and park!" Unfortunately, this isn't necessarily the case for truck drivers.
The Problem With Parking
Not only do they have to break at a certain time (mandate calls of 8 hours), they have to find a location where they are authorized and safe to park. Truck stops don't come up in route as often as you think either. To top it off, there are more trucks on the road than available truck parking spots.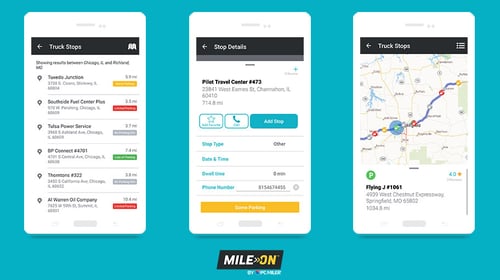 Crowdsourced Help
As you can see, truck parking is one of the biggest concerns facing truck drivers today. With our newest update for Android users, MileOn by PC*MILER drivers can now update parking statuses at truck stops across the country. Drivers can help their fellow MileOn users plan better, stay compliant and find a truck safe parking spot. To view the latest parking status updated by truck drivers just like you, simply select the truck stop and view the status. See how here >
This feature is available to both Basic and Premium level users. Update your app today via the Google Play Store >
Meet Us
If you happen to be at The Great American Trucking Show this week, please drop by booth #611 to say hello. Our experts will be happy to speak with you.