This holiday season Trimble MAPS is honored to support several incredible organizations and their charitable causes. Our Princeton office chose HomeFront NJ and their Holiday Wishes program to help end the cycle of poverty and homelessness in New Jersey. They also chose Corporate America Supports You (CASY) and their Troops to Transportation & Logistics Program to help train and place military service members and veterans into jobs within the transportation and logistics industries.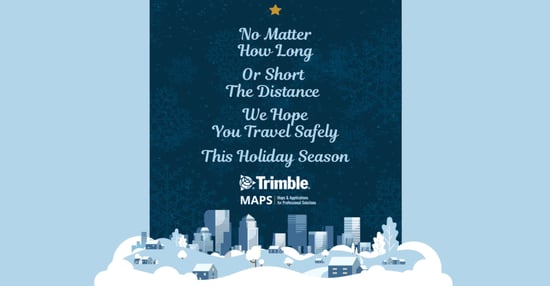 HomeFront Holiday Wishes
Originally started by volunteers providing meals for the homeless, HomeFront has since developed an array of services for those who are either homeless or at a high risk of becoming so. On any given night, they provide emergency shelter, transitional housing, and permanent service-enriched housing to over 450 people, with two-thirds of them being children.
During the 2018 holiday season, over 3,300 homeless or formerly homeless children had their special holiday wishes granted by an outpouring of community support.
This year we 'adopted' twelve children in the HomeFront Holiday Wishes program ranging in age from 1 month old to 14 years old. From remote controlled cars, clothing, gift cards, dolls, video games, and more - the Trimble MAPS team is thrilled to be able to provide these families with an abundant holiday season.
HomeFront runs on the dedication from their volunteers and their generous donors. To learn more about their wonderful organization, visit their website today.
CASY's Troops to Transportation & Logistics Program (T2TL)
T2TL works with industry companies who provide training and placement to wounded warriors, returning troops, veterans, military spouses, and caregivers into transportation or logistics jobs. It's not only about finding new truck drivers, but about helping to fulfill the needs of the entire logistics and transportation market.
Their outreach puts members into placements locally, regionally, or globally to help serve this massive industry. CASY has been in operation since 2010 and has provided job placement assistance to more than 100,000 service members.
From help with onboarding and skills assessment and training, to connecting members directly with corporate and small business recruiters for their hiring interview - T2TL is an invaluable resource.
We are happy to be able to support their mission, for more information on CASY and their T2TL program, visit their website.
Philanthropy Around the World
Our European office chose to support Eastern Alliance for Safe and Sustainable Transport (EASST) this year for their holiday philanthropy. EASST's mission is to save lives and prevent injuries by making road transport safer, greener, and more sustainable for future generations.
The Trimble MAPS Chennai office hosted a charity drive for stationary, toys, clothes, utensils, shoes and anything in usable condition for people in need. They also organized a program called "Gifts from Trimble Santas" where Trimble employees became Santa/Christmas Wishmaster for under privileged children in association with a local NGO.
Our Oklahoma City office partnered with The Salvation Army to do a snack drive for the local Boys and Girls Club. They also volunteered their time at a local food pantry during this holiday season.
The London office spent a day helping clear and tidy a local community park in partnership with a local charity, The Conservation Volunteers.
We are so happy to be able to partner with these organizations and give the gift of giving at both a local and national level. Have a safe and happy holiday season!