"[With digitalization] logistics is on the threshold of the most exciting phase of innovation in recent decades—and as a result it is becoming even more important. Developments such as online trade, Industry 4.0 and the Internet of Things mean more goods, more transport and more logistics." Alexander Dobrindt, German Federal Minister for Transport and Digital Infrastructure.
Last week, our European team attended the Transport & Logistic trade show in Munich, Germany. The fair, which is the world's leading trade fair for logistics, mobility, IT, and supply chain management is now over and we are very pleased to report it has been a great success!
Transport & Logistic reported record attendance, with over 2,100 exhibitors from 62 countries and 60,000 visitors from 120 countries.
The digital revolution was topic No. 1 at the show, while another much-discussed subject was the rise in national protectionism, a major risk for international trade.
It was the first time that ALK Technologies had its own booth at the event, which was the perfect opportunity to launch our brand new Plan, Drive, Analyze campaign, based on our CoPilot Professional and ALK Maps navigation solutions.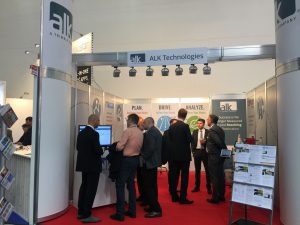 We were also pleased to strengthen the ties with our partners Areal Control, DFF Solutions, Idem Telematics, Kratzer Automation, Spedion, and Trendfire who were also present at the show. Our German team did a fantastic job in presenting our scheduling and route optimization solutions and we left the show with a huge amount of positive feedback and interest from partners and potential customers.
Click here for the full Transport Logistic 2017 Closing Report >