Everyday we are faced with decisions. One of the toughest decisions is how to weed through so much technology constantly thrown in our laps. With an app for almost every daily thought and task, it can be overwhelming. In a time where so much is out there, it's easy to think that some technology in our everyday life isn't necessary. But when your daily life exists on the road as a truck driver, your decisions are impacted by safety, compliance and cost savings. If you think truck specific navigation isn't for you - guess again. Here's a breakdown on why ALK's CoPilot Truck is essential for success.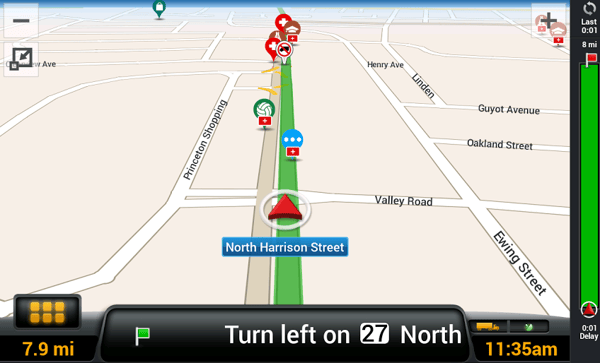 Truck Legal Routing
By providing your drivers with truck-specific navigation, you can rest assured they will only be navigated to truck legal roadways. By adhering to routes tailored to your load and trailer specifications, your drivers will avoid fines, low bridges, and potential out of route mileage.
Safety First
Truck specific navigation is designed with the driver's safety in mind. CoPilot Truck offers voice-guided, turn-by-turn directions with spoken street names from origin to destination. Reduce driver distraction in the cab with clear 3D and 2D map views plus Driver Safety Views for at-a-glance instructions. Know your driver is focused solely on the road ahead, by using Motion Lock to prevent interaction by the driver when the vehicle is in motion.
Stay Compliant
Ensuring your drivers are driving a compliant route saves you both time and precious money. Set parameters and custom truck routing profiles based on vehicle size and class to ensure safety and compliance to government regulations. Connect your back office to the cab with RouteSync - which allows you to send a HOS compliant route directly to CoPilot Truck.
Efficiency, Efficiency, Efficiency
By providing your drivers reliable, on-board navigation, you'll lower miles and maintain optimal fuel usage by maximizing the time spent on the road. CoPilot Truck also equips drivers with fast, automatic re-calculation, when needed, directly on the device. Easily understand a true cost and the most optimal route by viewing alternate routes. With the flexibility to build single or multiple destination routes and ability to optimize up to 50 stops, you know you are supplying your driver with the optimal route. The focus can then be on what's most important - making the planned route the actual.
Cost Savings
You've seen the videos. A 53 foot trailer hitting a low bridge. You think, "Why was that driver even routed there in the first place?" The likely answer - they were following a generic, non-truck specific navigation system, designed for use by drivers of smaller, lighter passenger vehicles. The result? Costly damages to the truck and any goods being hauled, potential harm to the driver and countless other drivers on the road, and fines for driving on a truck-restricted road. The other impact to the bottom line is the fact that the driver is then either delayed or never makes it to the next stop. Suddenly, you have a major cost issue and an unhappy customer. With CoPilot Truck, fleet managers ultimately control the route the driver is supposed to follow. If that driver had been provided a truck-legal road, this costly expense potentially could have been avoided. It pays to have truck specific navigation.
If you aren't running CoPilot Truck navigation, you're missing out on key factors that help to fuel success on the road. To learn more, please visit: copilottruck.com