Faced with increasing complexity and customer expectations, carriers need a competitive edge -- particularly in the last mile which can make up to 28 percent of a shipment's total cost. Using commercial location data, both in the back office and the vehicle, can help streamline operations, provide insight into ETAs, and keep drivers safe and efficient.
What exactly is commercial location data?
In transportation, places like distribution centers, truck stops, and manufacturing plants are the foundation for successful business operations. They require a level of commercial specific detail, such as exact location boundaries, truck specific entry and exit gates, and actionable location information like hours of operation. When fleets are able to extract high-value information from data and make smarter decisions, they can optimize their operations to be as efficient and smart as possible.
Let's take a look at each of these in more detail:

1. Truck-specific entry and exit gates

A huge amount of time and money is wasted when drivers are sent to the street address of the location, which is often different from the actual entrance for trucks. Drivers waste time trying to figure out where to go, and they may have to resort to dangerous maneuvers to get to the accurate destination. With non-public driveways or facility access roads not built into consumer maps, the need for commercial maps is crucial.
Using truck entry and exit gates ensures precise mileage and predicts a more accurate ETA for the back office. When used in navigation, drivers will have safe, precise routing and turn-by-turn directions creating a safe, stress free environment.
Note: the red icons are truck exits only; the green icon is a truck entrances
Go even further with a "gate path." The back office can get even more granular by pre-defining a "gate path," or which roads a driver should take to approach or to depart a location.

2. Circular radii vs. polygonal boundary polygons
In consumer mapping applications, geofences, typically defined as radiuses around a point or geographic location, are traditionally circular. Boundary polygons, however, can be drawn to any shape, allowing for precise perimeter around a specific location.
These are particularly useful when alerting whether a vehicle has crossed the boundary, either when arriving or departing a facility. Using circular radii for arrival and departure alerts, can cause inaccurate information.
Let's say the circular radius is 0.5 miles around a location. If a vehicle crosses that boundary, the back office would be alerted that the vehicle arrived, or departed, causing false positives. For example, although a driver is on the highway near a location, the driver could be planning to stop at a truckstop nearby for a break before continuing to the site. Circular radii are highly ambiguous. In contrast, our commercial maps provide a specific polygon that more accurately defines a location and provides alerts that are exact.
3. "Need to Know" location attributes
Knowledge is power - for both fleet managers, dispatchers, and drivers. Imagine if a location's hours of operation, parking, and amenities were built into routing and navigation solutions, so that the back office and drivers could make the best decisions possible.
Keeping drivers safe is the top priority - and providing them insight into whether parking is available at a particular location can alleviate the stress of finding a safe place to stop. Our data includes all Walmart 10-hour parking locations that can easily be found by search or map view. Where available at other locations (like truck stops), we also include parking availability information in our location data. Additionally, amenity information at potential break locations are vital. Knowing where they can stop for restrooms, showers, restaurants and fuel helps create a more satisfactory journey, and show that drivers are top of mind.
From an operational efficiency perspective, using hours of operation data can improve route and load (and future load) planning and assist in driver HOS planning, enabling better asset utilization.
Shippers can also contribute to a carrier's success by supplying information like dock numbers and delivery time windows that can be used in routing and navigation. Both shippers and carriers can benefit from more efficient arrivals, less truck idling, safety for drivers and better relationships by sharing information.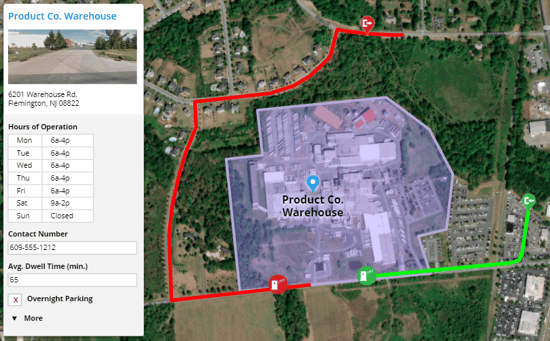 Our data, which includes tens of thousands of verified commercial locations, is available through our portfolio of solutions, like PC*MILER, CoPilot, Appian, and MileOn, or as a web service through our full suite of APIs.
Read more on location intelligence in our blog "Location Intelligence is Business Intelligence" >