Emergencies come in all shapes and sizes, but the one constant is the need for a fast response time. No one understands that better than members of the Emergency Services sector. Routine is not in the vocabulary of an Emergency Service worker, thus the demand for adaptability based on varying emergency conditions must be met with technology to quickly and safely reach those in need.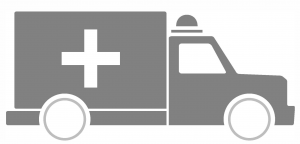 Learn how ALK has built a reputation for providing solutions that improve routing efficiency while meeting the varying needs of police, fire and medical emergencies.
Keeping the Driver Focused
Driving an Emergency Services vehicle requires a driver's complete focus so we've developed integrated navigation that can be pre-configured for travel at high speeds. Volume levels of spoken turn-by-turn instructions can be adjusted to ensure they're heard above siren noise. Turn instructions can be timed well ahead of when a driver reaches or passes it – a much quicker process at high speed. ETAs are also based on actual high speeds driven so dispatch and those waiting in need have an accurate arrival time. When every second counts, this reassures those in need that help is near while keeping the driver safe on the road.
Guidance from the Back Office to the Vehicle
Keeping the back office connected to a vehicle's real-time progress on route enables constant monitoring for greater visibility of location and status. With the ability to pinpoint a driver's exact location dispatchers can make quick and informative decisions such as finding a faster route and sending it to the vehicle to follow or dispatching more vehicles if needed. Pre-set customizable profiles also provide flexible routing that can be quickly accessed to suit multiple emergency conditions.
You can learn more about how our CoPilot Professional solution leads to improved route efficiency and most importantly helps to reach those in need at copilotpro.com