Trimble MAPS is dedicated to making sure our map data is updated regularly so that you can have the most precise mileage and produce the best routes for your fleet. We've just launched our latest map data release.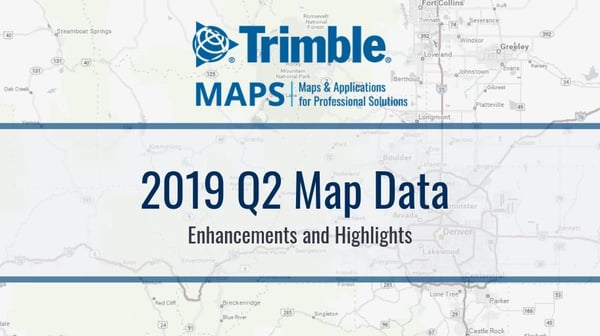 North American Map Data Enhancements
Notably, over 56,000 road segments have been updated with fixes to geometry and routing attribution as a result of GPS data analytics and other innovative projects. Take a look at some more of our most recent highlights over the last few months.
Updates to the road network were made in 281 counties
74 new construction road projects were added
Truck attributes were updated; totaling more than 800,000 miles
Truck through-travel restrictions were updated within 38 city limits
Weight limits were updated in Iowa, Maryland, Michigan, New Hampshire, Oklahoma & Oregon
Posted vertical clearances were reviewed and updated in Arizona & Florida
Tolls were updated to reflect new rates in California, New York, Texas & Virginia
City points and postal codes were updated for the US and Canada
466 Walmart Overnight Parking, 10 distribution centers, 83 CAT scales, 3 truck stops and 14 manufacturing plants were added to the Places database
Our maps are designed for commercial vehicles, this is map data that you won't get anywhere else. We're committed to ensuring every driver and vehicle on the road has access to the best possible routing and navigation.
NOTE: Data updates may be made available in different Trimble MAPS products at different times. The type of data available also depends on your licensing. Please contact us if you are unsure of your data licensing.