Members from our Princeton GIS team had the opportunity to fly to our Chennai, India office for a two week visit.

Since the Chennai team was created two years ago, managers both in the Princeton and Chennai office have been persistent about creating a more cohesive feel between both offices. And what better way to do that than to have team visits to the office! Mike, Mia and Erin can attest that this trip met it's goal of getting to know our team on the other side of the world.
As one can imagine, not all roads are built like American roads and highways. Mike, Mia and Erin wanted to give the Chennai team a better understanding of what the road systems are like in North America. They also worked extensively on the conflation tool, which was designed in house and has been evolving over the last few years.
Getting to know everyone in the Chennai office was also a vital objective of this trip. Will Bogetti and Andrew Singer were the first GIS members to visit the Chennai office when it only consisted of 15 members. They immediately saw the importance of having close ties among everyone on the team and wanted to ensure that they established and cultivated a strong relationship between both offices.
This trip accomplished just that! The Chennai team were very hospitable and made our Princeton GIS team feel right at home. Adarsh, GIS Lead of Alpha team at the Chennai office, even invited Mike, Mia and Erin over for dinner where him and his wife prepared a traditional south Indian meal served on a banana leaf.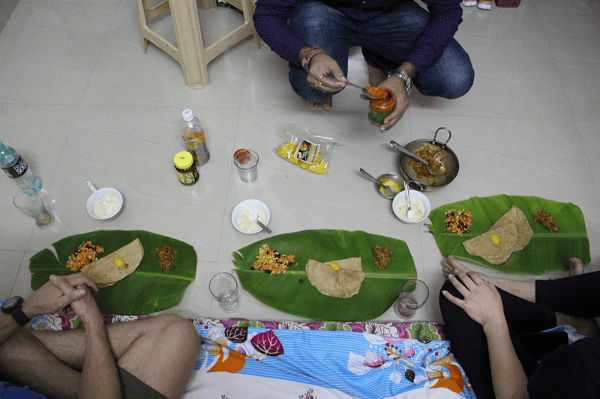 The Princeton team also happened to be visiting during Diwali, one of the most celebrated times of the year for India. Most people in India travel during this holiday to be with family and go to temple. However, Mike, Mia and Erin were able to celebrate the holiday with some GIS team members in Chennai and experience the culture it brings.
Throughout the day there were lots of fireworks, food, sweets and gifts. There was also a lot of Rangoli displayed on the streets of Chennai, which is sand art that decorates the streets during Diwali.
The Princeton GIS team thoroughly enjoyed themselves visiting our India office! The experience was one of a kind and it was due to the great hospitality that was provided from our Chennai team. We look forward to hosting members of our Chennai office in the near future!