Although every journey is unique, businesses still require predictability in terms of time and cost. Therefore companies need access to a planning, driving and analysis platform that provides flexibility and customisation for your business.
What Is The ALK Platform?
ALK's platform is a location powered toolset for every part of the journey. We offer a flexible routing, mapping, mileage and navigation platform. It is rooted in rich commercial vehicle data and powered by our location engine at the core.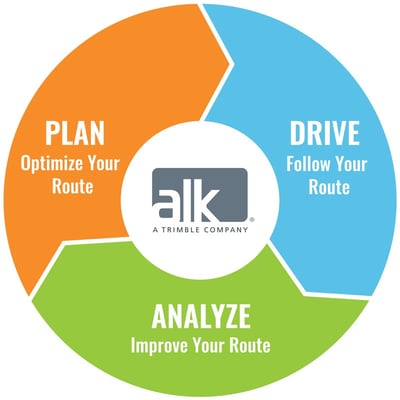 Who Will It Help?
Whether you are an end user, looking to enhance your mobility workflow solution or a partner, we can help. Our functionality can be used individually, or as a complete set for the highest level of operational accuracy and consistency. We work across a broad range of industries including Post, Parcel and Courier, Oil and Gas, the Emergency Services and Utilities. The ALK platform consists of these three core components:
Plan
The first step of every journey is planning. With ALK's platform, you will be able to build accurate, optimized and efficient routes:
Generate accurate mileage results and drive times through the last mile with address to address routing

Predictive routing based on real-time and historic traffic and weather conditions

Easily compare alternative route options by displaying the distance, drive times, and toll costs for each route in the same window

Set vehicle and route profiles to keep drivers and assets safe on legal roads

Input mandatory rest periods and SLA time windows into the route planning for accurate ETAs

Visualize the driver's route
Tools: ALK Maps, PC*MILER, PC*MILER Web
Drive
You have planned your optimal route? Time to follow it. Guide drivers with safe, efficient navigation:
Safe, accurate commercial vehicle routing

Intuitive, non-distracting clear 2D, 3D map guidance views

Fast, automatic route generation and re-calculation directly on the device

Advance road warnings of potential driver hazards

Offline navigation for constant access to reliable routing and maps in out of coverage areas
Tools: CoPilot Pro, CoPilot Truck
Analyze

The drive is over, but that doesn't mean it's the end of the road. Improve your future routes by integrating post-trip visualization & reporting:
Monitor driver adherence to planned vs driven route to maximize operational efficiency

Streamline management of in-cab navigation with web-based remote configuration tools

Create, manage and sync custom location content for precise routing

Analyze performance across the entire fleet or drill down to each driver

Continuously improve routing and ETAs for a better customer experience
Tools: ALK Maps, PC*MILER, PC*MILER Web
How can we empower your business? Get in touch here >