We are excited to announce the launch of our innovative driver trip planning app—MileOn™ by PC*MILER!
Powered by ALK's flagship PC*MILER® routing, mileage and mapping software, MileOn™ by PC*MILER is a much-needed tool for trip planning, scheduling hours of service (HOS) breaks and choosing the right rest stops for your needs while staying DOT compliant.
Our new app will help you plan your trip with stops based on your HOS, as well as providing the most practical route with real-time conditions for accurate ETAs. And best of all, MileOn helps you earn more by hitting your delivery windows.
Drive smart, not stressed. Let MileOn by PC*MILER help you plan and execute your trips, so you can get the most out of your miles! Here's how it works: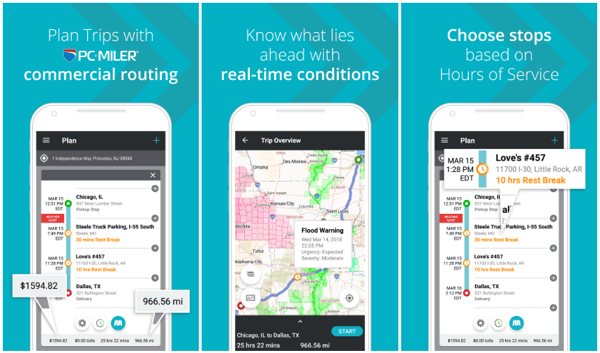 PLAN
Take the guesswork out and start planning
• Easily plug in your pickup, delivery and any HOS breaks in between
• Decrease non-revenue mileage by pre-planning HOS breaks
DRIVE
Let us do the work so you can just drive
• Maintain HOS breaks with stops you want and the amenities you need
• Quickly compare which route is best with total miles and costs
EARN
Maximize profits with accurate ETAs
• Improve customer service & hit delivery windows with live traffic and weather
• Avoid hours of service violations and get more driving in...and more money in your pocket

What are you waiting for? You can download the app for free today in the Google PlayStore. MileOn by PC*MILER is available for users in both free and paid versions. The paid version of the app includes additional features such as sophisticated HOS planning. To find out more information on features, visit www.mileonapp.com.