In the face of the unprecedented coronavirus pandemic, the transportation industry is working around the clock to deliver essential goods that keep communities safe. From medical supplies to groceries, cleaning supplies to toilet paper, truck drivers are on the front lines of ensuring people have what they need to get through these difficult times.
It's an inspiration to see the many ways in which the industry has rallied together to support drivers and other transportation workers. The Iowa Motor Truck Association, for instance, has provided 1,000 complimentary boxed lunches for truck drivers at two truck stops along Interstate 80— a vital freight route that stretches from San Francisco to Teaneck, N.J.. At Sapp Bros., a national chain of travel centers, locations, parking is also free, with the company announcing on March 24 that it was temporarily suspending paid parking at all of its 17 locations. In addition, McDonald's has begun curbside delivery for truckers, making "Drive-Thru" dining possible where it wasn't before. The Missouri Department Of Transportation raised the weight limit for trucks hauling essential supplies to 100,000 lbs, enabling supplies that prevent, contain, mitigate and treat the effects of COVID-19 to move more efficiently.
At Trimble MAPS, we want to do our part to help the transportation community, especially professional drivers, starting with an essential feature of the truckers' life—the truck stop.
Public health officials across the country have closed down restaurants, bars, and other non-essential businesses to stop the spread of the coronavirus. However, these measures also led to the shut down of travel centers along public interstates and turnpike stops. While these centers may not be "essential" for individuals, they certainly are for professional drivers who rely on the parking lots of those travel centers as places where they can safely pull over to sleep, eat, and use the bathrooms and showers. According to an article in Wired, a shutdown of travel centers in Pennsylvania led to "a revolt" from two national lobbying groups: the American Trucking Association and the Owner-Operator Independent Drivers Association. A couple days later, the Pennsylvania DOT said it would reopen the parking lots and bathrooms in 13 of the 30 state-operated stops.
The situation is constantly changing on the ground and complicating journeys. Now more than ever, drivers need technology that supports them along the way. What truck stops and rest areas are open? Are restaurants open and showers available? Where can drivers find safe, reliable parking? Drivers need the answers to these questions to complete their jobs in this "new normal."
A free, interactive COVID-19 Safe Haven web app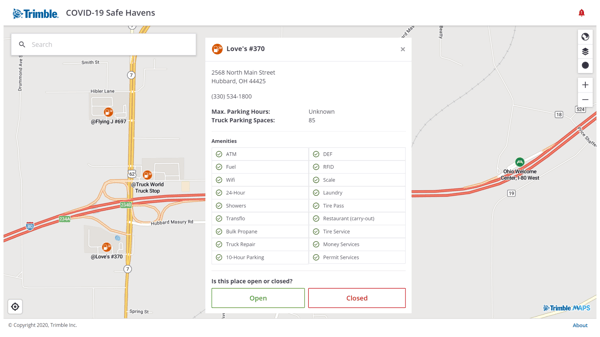 The Trimble MAPS mission—before, during, and after the coronavirus—is to leverage map intelligence to solve the unique needs of commercial fleets, shippers, and delivery logistics service providers. Faced with uncertain times, and inspired by the courage of our customers, we have launched a free web app that collects and curates truck stop status and amenity information, where available. The goal is to help our community understand which locations are closed and which conveniences are open for drivers. The web app can be accessed at covid19.trimblemaps.com and can be used on desktop or mobile devices. It is available to anyone in transportation with no login required.
Enhanced driver trip planning app that suggests open truck stops and rest areas
To further reduce uncertainty and alleviate stress, MileOn by PC*MILER, our driver trip planning app, will utilize the same data to help make sure closed rest areas or truck stops are not displayed as break locations in a driver's trip plan. It will also be offered for free for anyone to use.
Using commercial map intelligence in routing, navigation, and driver trip planning apps can help transportation businesses weather the new normal. We hope it helps. Thank you to the 3.5 million professional truck drivers and 7.7 million people employed in trucking-related jobs.