PC*MILER 27 – A Major Milestone - Completely Redesigned User Interface. As a seasoned ALK veteran for over twenty years, I am extremely proud to be part of the latest makeover of PC*MILER. Not only because of the awesome new features and enhancements included but also because of the winning team work that went into it to make it our best release yet.
Because of the importance of this release, we allocated a 20% increase in staff resources for this project. There was a significant effort, along with a new organizational game plan and emphasis on improved communication, collaboration and productivity.
For version 27 we decided it was time for a facelift. ALK has an in-house, technically oriented Design team that makes our CoPilot product line look really professional so when we decided to update PC*MILER's interface we took the opportunity to get Design involved. Using the latest Microsoft tools our Design team collaborated closely with our developers to create a brand new look that I think you will like.
At the end of the day, tools are only tools and extraordinary team work was needed to bring this latest version to life. The Project and Product Management teams' ongoing collaboration and dedication shows in the new product features and enhancements including a completely redesigned user interface with an all new look that encompasses newly crafted descriptive icons. This new UI provides a more accessible layout for smoother transition between tasks, and windows that can be floated outside the PC*MILER application to better accommodate workspace needs. We built in the ability to update the entire map dataset within the application, as well as the option to switch a map data region to match your business needs.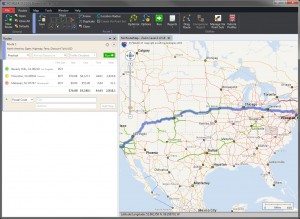 The collaborative team effort involved the following ALK groups: Product and Project Management, Development, Design, Technical Support and Documentation, GIS, and QA.
A huge shout-out to all. Way to hit it out of the park!
Tom Carriere
Senior Project Manager
Enterprise Solutions
ALK Technologies, Inc.