According to a report from McKinsey1, 50 percent of parcel delivery cost is directly attributable to the last mile. Only first time delivery makes the journey profitable. How can organizations improve their rates of successful first time delivery?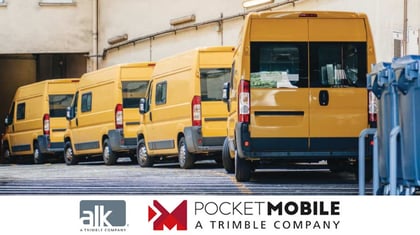 Already deployed within the postal and logistic service provider industry, ALK Technologies and PocketMobile provide a solution that secures last mile performance while simplifying process and motivating delivery personnel.
The Business Challenges
A continuous need to reduce cost per stop
Must optimize to improve the customer experience
Maintaining and motivating a driver workforce
Seamless operation between legacy and new technology
A Tool for Every Delivery Stage
PreCom Logistics Webportal
PreCom/ALK Maps
PreCom Logistics Dashboard
PreCom Logistics Mobile system
Advanced Route Optimization
CoPilot Professional GPS navigation
The Business Benefits
Up to 50% reduction in last mile delivery cost
Significant first time delivery success
A trusted suite of proven solutions within the post parcel sector
Customers Include
You heard about the challenge. But what's the solution? Find out next week when we continue our series on first time delivery success...Don't forget to subscribe to our blog!
1 McKinsey - Parcel Delivery - The Future of the Last Mile