Transporting hazardous materials along illegal routes not only poses serious public safety, driver safety, and environmental concerns, but can also carry quite a hefty fine. A US trucking company recently found that out the hard way when they pled guilty to an illegal hazmat transport, resulting in $3 million (USD) in penalties and environmental remediation.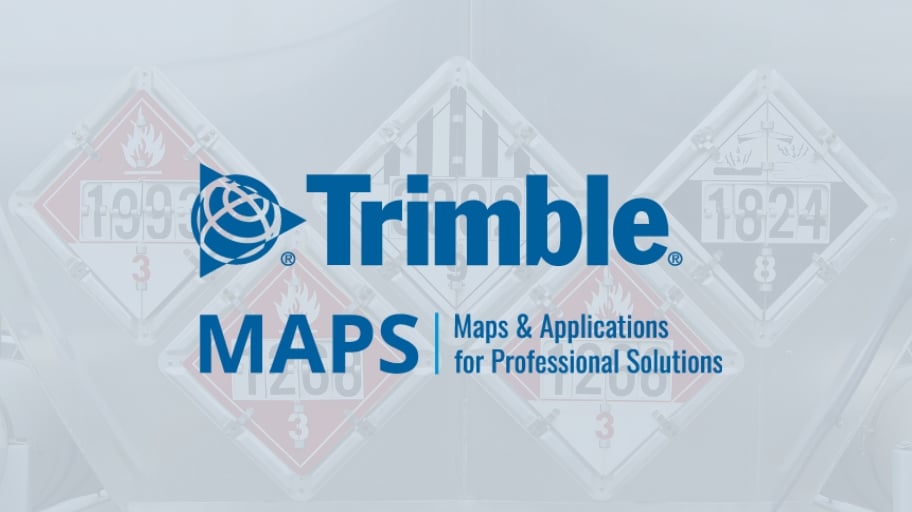 Ease the Burden of Hazmat Compliance
More than 150 pages of guidelines were published by the National Hazardous Materials Route Registry in the last Federal Register. With the amount of hazmat compliance information out there, it is no surprise why carriers can struggle with finding safe and compliant routes. With the Trimble MAPS portfolio of solutions, we can help you plan in accordance with Department of Transportation, nationwide hazmat, and nationwide dangerous goods regulations.
Plan with Routing Restrictions
Not all hazardous materials are the same - routes can vary based on the type of material being hauled. Using an advanced routing software that includes hazmat road classes and routing categories allows you to get the most accurate mileage on the most appropriate roads.

Here is an example of a route with the same origin and destination - one route using hazmat restrictions and one without.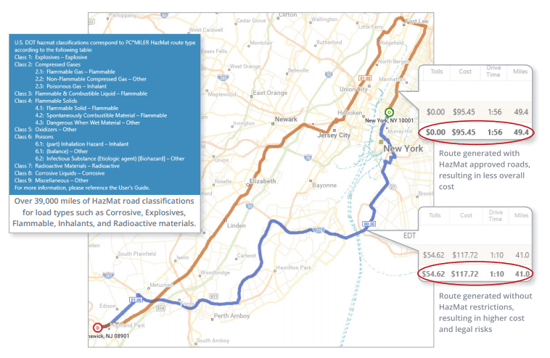 By easily comparing standard mileage and hazmat mileage, carriers can better estimate actual operating costs when negotiating a rate.
Not only is it important for back office operations and accounting to have precise, safe routing and mileage, but it's vital to provide drivers with those same detailed, turn-by-turn, hazmat-compliant driving directions.
Navigate Safely and Reduce Risks on the Road
Give drivers the confidence they need when hauling these loads by using in-cab navigation that routes and navigates based on hazmat road restrictions. Simply ensure drivers are changing their vehicle and routing profiles to select the appropriate hazmat classification and/or load type prior to running the route.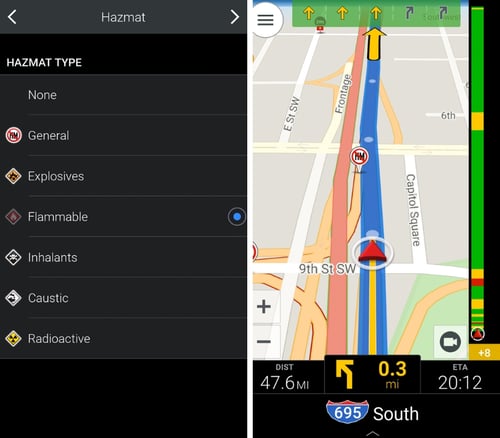 Road restrictions are constantly being updated and may be different depending on the map version being used in any back office or navigation software. It is recommended that map data on devices is updated annually. For additional safety, drivers should be reminded that local signs and restrictions should always take precedence.
Comprehensive Hazmat Solutions
Whether you need back office routing software or in-cab hazmat solutions, we've got you covered. PC*MILER offers hazmat routing in both its desktop and web-based application; CoPilot Truck provides voice guided navigation to drivers through many telematics providers as well as a standalone app; and MileOn by PC*MILER allows drivers to trip plan using hazmat restrictions.

You can also provide complete consistency from the back office to the cab by using a combination of these solutions since they are all rooted in the same routing engine - drive what was planned to ensure comparable mileage, drive times, and roadway compliance.