In the trucking industry, there's no "one size fits all" when it comes to route planning and daily operations. Roads have varying height, weight and load restrictions, and delivery locations can be complicated with non-addressed roads and some stop locations not even on the map!

And that's just the beginning for those hauling hazardous material or oil and gas. There are compliance issues with numerous state and federal regulations and fear of hefty fines, as well as driver, public and environmental safety issues.
The U.S. Department of Transportation Pipeline and Hazardous Materials Safety Administration regulates the transport of hazardous materials and has recently increased penalties for violations. As of June 2015, fines for violations associated with the transport of hazmat are up to $75,000, an increase of $25,000 prior to that date1.
Can you afford the risk? Utilize routing, mileage, mapping, and navigation software that incorporates road restrictions and planning tools to keep precious cargo safe.
Still unsure routing with specific parameters matters? See the difference! The orange line depicts a route that was planned without hazmat parameters, taking you directly through Baltimore, MD. However, look at all of the red roads throughout the city - those are hazmat restricted roads - and you're traveling on them.
The blue line is a route planned using hazmat parameters, based on the type of load you are hauling. It intelligently takes you around the entire city, keeping your load, driver, and the public, safe.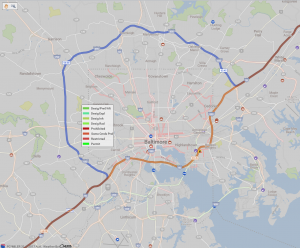 Is your business operating in the patch? You're probably working in remote areas, under extreme conditions, with very specific location needs. You have multi stop routing planning and need efficient ways to get from place to place, or well to well.
Mapping with industry-critical data is a necessity for effective operations. Using the street-level satellite view on a map can help identify, locate, and geocode well heads. Store the exact coordinates and save these custom places for quick, easy routing. Here's a sample of a patch with numerous well heads on a satellite map2: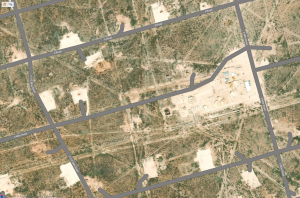 For even more precise planning, set custom road speeds on rural roads. The terrain can be rough, causing the need for slower truck speeds. By factoring the set truck speeds, you'll generate true travel times and ETAs.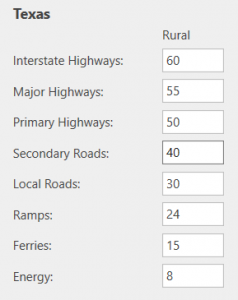 Now that the plans are in place, get your drivers and vehicles on the road!
Rest easy that the compliant route planned is the route driven, by incorporating navigation that uses the same routing algorithm and data. Drivers can set their routing profiles to match their specific hauling dimensions, so they can focus on the road ahead and not worry about going off route. Eliminate distracted driving with turn-by-turn, voice-guided directions, and accurately navigate even in the most remote areas with maps stored directly on the device.
Learn more about how ALK's routing, mileage, mapping and navigation solutions for Hamzat and Energy industries at www.alk.com/solutions.
Additional licensing applies.
1 http://www.truckinginfo.com/channel/safety-compliance/article/story/2015/06/price-tag-for-violating-regulations-just-went-up.aspx
2 At ALK Technologies, data coverage across the U.S. and Canada is available through a partnership with GEOTrac Systems, Inc, a leading provider of wireless fleet management and worker safety solutions for the oil and gas industry.