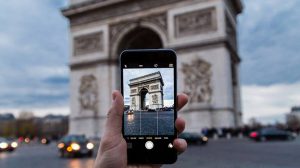 Good news for all Europeans: From mid June onwards, roaming charges for certain mobile plans in the European Union have been dropped. That means there's a good chance you can now travel across Europe and use your data without worrying about extra charges. Say goodbye to surprise bills from your mobile provider at the end of the month when completing a delivery through several countries.
And the best part for CoPilot Professional and CoPilot Truck users?
You will now be able to use

ActiveTraffic when driving abroad

without paying a hefty bill at the end of the month if you have a good mobile plan.

You can

still take advantage of CoPilot's offline capability

if you're driving in areas with low data coverage. Say goodbye to interrupted service when crossing borders.

If you have a monthly cap on your data usage, you can still use CoPilot's offline maps to

minimise data usage

.

Especially if you're a fleet manager, this will keep costs down across the board.
So check in with your mobile provider and see how your data plan abroad has changed regarding your international shifts!
PS: If you are in the US or other places around the world, roaming charges will likely still apply. So make sure to turn off your data roaming if you want to avoid hefty bills.