Out with the old, in with the new! We've had a big month this February as we are now officially Trimble MAPS, a newly formed division of Trimble. You might have noticed significant changes around our website, the blog and general look and feel. Find out all the details about the launch in our highlights below.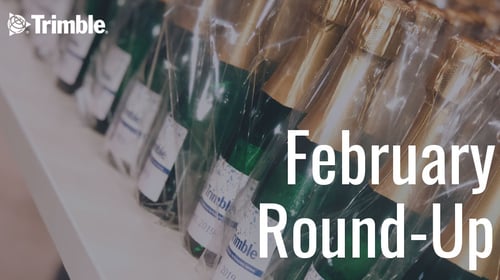 We are Trimble MAPS
On the 12th of February, Trimble officially announced the launch of a new division, Trimble MAPS (Maps and Applications for Professional Solutions), positioning the organization as an authoritative source and global provider of routing, scheduling, visualization and navigation solutions designed specifically for commercial use. Read the press release in English, German or French.
🗺️ ALK Technologies is now Trimble MAPS! We have updated our profile and we are now @trimblemaps. Read the full press release https://t.co/bDtOYdXjzX or visit our new website https://t.co/156sH7GFdZ #trimblemaps #newbeginnings pic.twitter.com/CH6boCg9Cx

— Trimble MAPS (@trimblemaps) February 12, 2019
To learn more about Trimble MAPS watch the video below:
Read about our solutions on the overhauled website maps.trimble.com, which includes a brand new AppianTM section.
🆕 Have you visited our new website yet? Visit https://t.co/C9Z2nOFg1v to find out how we are transforming journeys #trimblemaps #newbeginnings pic.twitter.com/uy0t4ggSQh

— Trimble MAPS (@trimblemaps) February 20, 2019
Of course we celebrated the division launch in style, with a big kickoff event and parties in the Princeton, London and Oklahoma City offices. Some employees donned their new Trimble MAPS shirts and enjoyed a glass or two to honor the occasion:
We are Trimble MAPS - To honor the occasion, our Princeton office celebrated the launch of our new division with a big company kickoff event. There might have also been a glass of champagne (or two) involved 🥂 pic.twitter.com/Mnm5pmuqXo

— Trimble MAPS (@trimblemaps) February 14, 2019
🌍 The Trimble MAPS celebrations continued in the London office with a company kickoff session and a special launch cocktail party. Learn more https://t.co/O2DOIhzXR5 #newbeginnings #trimblemaps #maperita pic.twitter.com/edCD6iupeD

— Trimble MAPS (@trimblemaps) February 15, 2019
To stay in the loop about Trimble MAPS in the future, subscribe to our new blog (in the form underneath this post) or follow us on our new Facebook, Twitter or LinkedIn social accounts.
Trade Shows
Mid-February, our German team attended LogiMat in Stuttgart, Germany to connect with partners and customers and to introduce Trimble MAPS to a wider audience.
Later in the month, the US team showcased how CoPilot Truck makes it possible to remotely configure multiple truck profiles by fleet, sub-fleet or individual vehicle at Omnitracs Outlook User Conference in Dallas, Texas.
Are you attending the @OmnitracsHQ Outlook User Conference in Dallas, Texas? Come visit us at booth 25 and learn how to remotely configure multiple truck profiles by fleet, sub-fleet or individual vehicle with the help of CoPilot Truck #OmnitracsUC #trucking #fleetmanagement pic.twitter.com/JNENdcNpb4

— Trimble MAPS (@trimblemaps) February 25, 2019
Meet Us
If you happen to be at one of these upcoming events, please drop by to say hello to learn more about Trimble MAPS. Our experts will be happy to speak with you: