It's another first for Trimble MAPS - we are off to ExpoCam, the largest Canadian trucking show, from April 11-13 at Place Bonaventure in Montreal, QC. Our portfolio of solutions can help drivers, owner operators, or any size fleet with trip planning, truck safe navigation, and precise routing and reporting.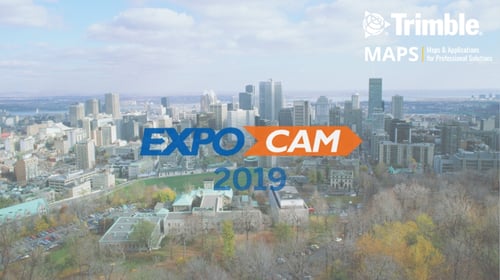 Since we are heading up North, did you know about our comprehensive map coverage in Canada? We have a network of -
845,489 street-level miles
141,569 highway-level miles
288,021 miles of addressed road coverage
18,015 city points
862,115 zip and postal codes
… and over 48,649 miles with commercial truck restrictions and attributes!
You may be familiar with PC*MILER, the industry standard for commercial vehicle mileage and routing, but have you heard about MileOn and CoPilot Truck? They're our other driver apps for trip planning and commercial navigation.

All of our apps are powered by our single source of North American map data. Use one or all three for complete consistency from the back office to the cab.



The trip planning app built for truckers.


Know when you'll arrive with precise ETAs and drive times that incorporate available hours and road speeds based on real-time or predictive traffic congestion
Alleviate the stress of finding safe, available parking spots with verified* parking information. Through TPIMS integration, MileOn can you help find parking locations with up-to-the-minute availability.
Improve customer service and hit delivery windows by knowing what lies ahead with live traffic and weather
View amenities, like restaurants, restrooms, and showers, at truck stops and rest areas to choose the best stop location for your needs
Generate precise mileage and trip costs with routing powered by industry standard PC*MILER
*Currently available in Indiana, Kentucky, Minnesota, Ohio, and Wisconsin

---

Safe and reliable in-cab navigation.


Avoid low bridges and truck restricted roads with routing powered by industry standard PC*MILER
Concentrate on the road with a non-distracting user interface
Safely maneuver lane changes with real road signage and lane assist guidance
Offline navigation for constant access to reliable routing and maps in out of coverage areas
Real-time traffic info helps you avoid potential delays, get a precise ETA, and deliver on time


---
Routing and reporting for the back office.


Accurate mileage for rate calculation, driver pay, and freight bill auditing
Detailed, turn-by-turn driving directions for route compliance
Comprehensive reporting options, including State Mileage summaries for fuel tax reporting or other accounting needs
Real-time and predictive traffic data for more accurate ETAs and drive times
FREE for 48 hours or up to 20 generated routes

Want to learn more?
We have designed our driver focused solutions to help independent drivers, owner operators, and fleets of all sizes. We know that you need to make decisions that directly affect your bottom line on and off the road. Come see us at booth #142 to learn more.