Every day your drivers face a number of circumstances that can influence their trip - from traffic congestion and hours of service to the availability of parking. MileOn by PC*MILER empowers your drivers with the features they want and the tools they need.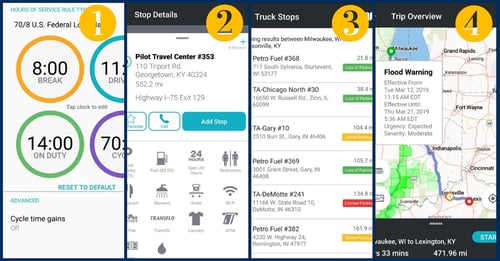 Enable drivers to create trip plans that incorporate available hours to maximize driving time and avoid fines
Let drivers choose their preferred stop locations by viewing amenities, like restaurants, restrooms, and showers, at truck stops and rest areas along the route
Empower drivers with the ability to find safe, reliable parking spots at verified* truck stops, where available, with real-time parking availability
Give drivers insight to get ahead of any delays with radar, weather alerts, and traffic conditions along the route
To get an overview, watch the video here.
MileOn provides accurate ETAs for each stop along a route based on current vehicle position, available driver hours, and traffic conditions. Drivers can also visualize radar and weather conditions along the route to make informed safety and routing decisions - allowing your fleet to hit delivery windows and achieve exceptional customer service.

Read what actual drivers are saying about MileOn by PC*MILER -
"Finally someone gets it! A GPS app that incorporates the drivers required 30min break and the required 10hr break into the Hours Of Service rules that not only tells the driver "WHEN" but "WHERE"(offering suggested locations within a few miles of each other) to take that break! Been driving since 1995 and life on the road keeps getting more convenient thanks to technology like this." - Lance
"Glad I came across this app, odometer broke and this saved the day. If you have drivers who seem to run out of hours, you can pre-plan everything, where and when to rest and suggested places for all of them!" - Google User
MileOn by PC*MILER is a cost effective way to improve life on the road for drivers. A free trial offer is available for fleets. Head over to mileonapp.com to get started.
*Currently available in Indiana, Iowa, Kansas, Kentucky, Michigan, Minnesota, Ohio, and Wisconsin,