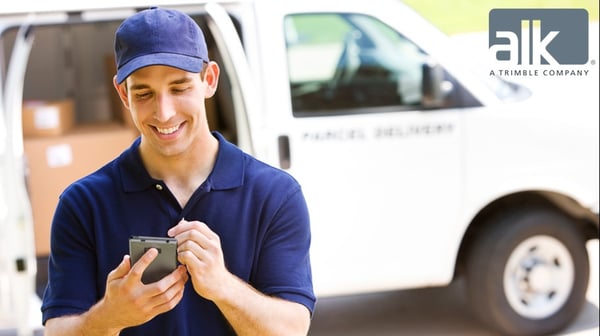 Why is this delivery man in the picture so happy? Is it because it's sunny outside and he's wearing a dashing protective cap? Is it because the parcel he tried to deliver for the third time this week has finally been taken in? Or is it because he lives in exciting and transformative times for the postal industry? Perhaps it's all three of the above.
Disrupting An Old Industry
The postal, parcel and courier sector has seen some dramatic changes in the last few years. The unstoppable ascent of eCommerce has shifted the focus from mail to parcel delivery. Industry disruptors like Amazon have shaped a new generation of consumers to demand free, nearly instant, flexible delivery and returns. Profit margins are getting ever tighter and the market is competitive as never before.
The Final Mile
Caused by a sharp increase in parcel deliveries since the advent of eCommerce, the number of failed home deliveries is growing. In the UK alone, it's estimated that it costs postal, parcel and courier companies ca. £780m a year for failed deliveries. In North America, there are roughly over one billion re-delivery attempts that occur annually. And there is no end in sight: 80.6% of eCommerce shoppers still prefer home as a preferred delivery location (see IMRG Valuing Home Delivery Bi-Annual Report 2016 and Dude Where is My Package? The Impact of Missed Deliveries)
Unless there is a radical physical redesign of letter boxes to hold the flat screen TV you ordered on Black Friday, this trend will continue. How can CEPs (=Courier, Express and Parcel companies) reduce failed delivery costs? To find out more, subscribe to our blog here. Part 2 of this series is coming soon.