Lengthy dock wait times have been a burden on the trucking industry for years, with significant consequences for drivers, shippers, and carriers alike. Recent research from the American Transportation Research Institute (ATRI) shows that one of the main factors that impacts a truck driver's available hours-of-service is driver delay or detention at customer facilities.1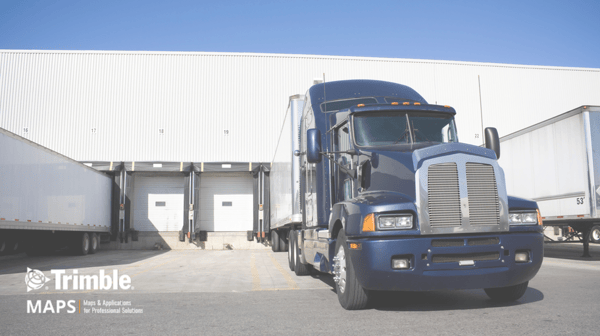 What is the difference between Dwell, Detention, and Slack time?
Often times, the terms 'dwell time' and 'detention' are used interchangeably in the transportation industry. Yet, they define different activities while at the shipper/receiver facility. Dwell time refers to the total amount of time spent at the facility, while detention is any time spent waiting to be loaded or unloaded (as opposed to the loading or unloading activities themselves).
In 2016, DAT Solutions research claims that nearly 63% of drivers spend more than three hours at the shipper's dock each time they're getting loaded and unloaded.2 This clearly plays a significant role in the movement of freight in and out of facilities and can create a multitude of challenges on an industry that runs on tight schedules.
Furthermore, the industry realizes another factor in the typical events at a shipper/receiver facility - 'slack time', which refers to the difference between scheduled and actual arrival times - giving the driver unplanned "free" time while waiting at the facility. See the breakdown below for a better view of these events.

As you can see, there are plenty of opportunities to get off schedule during the loading and unloading process. So, who takes ownership of these delays?
Shippers and Receivers Shoulder the Blame
The cause of detention typically starts at the shipper/receiver facility. Professional drivers and carriers recently surveyed by ATRI have said that better facility organization, better management of scheduling and appointments, and more flexible work hours were top customer practices that have contributed to increased efficiencies by shippers to help minimize delays and detention.1
Who is Affected by Detention?
There are many participants in this overarching issue. We break it down for you below.
Full Truckload Carriers (FTL)
Many are paid on a per mile basis; if their drivers aren't moving, they aren't earning income. If they are held up at a facility, they may be unable to meet other scheduled delivery appointments. This could make them rethink their relationship with a facility/shipper
Less-than Truckload Carriers (LTL)
While there is detention in the LTL world, there's a greater variance on those times. In some cases, it can be as little as 15 minutes, sometimes it's 30 minutes. Why? Sometimes an LTL truck won't stay at the facility and wait and will skip the delivery altogether
Shippers
Shippers and receivers know detaining a truck at their facility for long periods of time hurts carrier efficiency and drives up carrier's costs; therefore makes them less desirable as a customer. Frustrated customers and carriers may result in avoiding loads to/from a shipper's facility
Professional Drivers
Since detention impacts productivity, drivers may not have enough HOS left to pick up the next load. If they run out of hours, it may force drivers to park in unsafe or unsecure locations, as well as interfere with an optimal sleep schedule. Few drivers receive pay for all the hours they work, if they are detained they aren't earning income
What is Being Done to Remediate This Issue?
In order to reconcile the productivity impact of detention, carriers often respond by charging detention fees when drivers are delayed for an "excessive amount" of time, which ranges from a $50 to $100 charge per designated overage time frame. Professional drivers indicated that detention payment policies can be both complex and convoluted with limitations on actually being compensated for detention. Shipper opposition toward detention fees is clear: (per the ATRI study) only 29.3% of carriers reported they were able to collect all of the detention fees they had billed to customers (i.e. shippers).1
Iowa State University conducted a study, published back in 2015, and found that an average dwell time of two hours increases the freight rate for every load shipped from that origin by $9.83 USD. If a shipper is at an average of three hours of dwell time you can expect an increase of $14.74 USD per load from that origin.3
That's not even considering the possible additional detention accessorial fees that can be tacked on to an invoice if a shipper is holding up drivers at pickup/drop-off.1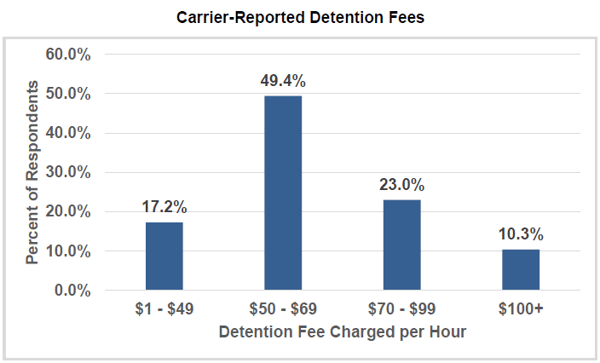 Final Thoughts
It is clear that detention, dwell, and slack time can be serious factors in creating mutually beneficial relationships between carriers and shippers, they pose significant opportunity for cost savings, can provide the ability for more operational efficiency, and are certainly impacting driver's quality of life on the road. Don't you think it's time that the industry tackles these issues head-on?
Learn more in our featured article in FreightWaves to see how utilizing custom location intelligence can help fleets gain accurate detention time calculations by monitoring their assets at loading and unloading docks.