Consumer demand patterns change, and that means customer needs change for delivery logistics companies. That was true before the pandemic, and it will be true in the post-COVID-19 world too. Fleet managers have to stay ahead of the curve and make sure they can respond to changing needs. A modern rerouting strategy can help.
Companies that implement and maintain a rerouting strategy, whether through software or spreadsheets, can reduce transportation spending while maintaining high levels of customer demand by optimizing service. But software opens up new possibilities by enabling data integration and deeper analysis to find room for improvement.
The pandemic forced companies to step outside their fixed-route comfort zone and rethink their approach. That's a silver lining because there are many benefits to having a rerouting strategy, including the ability to better manage miles, fleets, driver need, on-time accuracy and order balancing.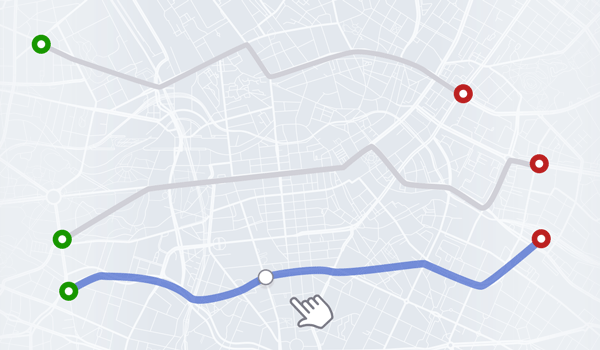 Begin by defining who handles rerouting and determining frequency
So, if you're thinking about a rerouting strategy, the first step is to determine who will handle the task. Should someone at the distribution center level tackle it? Someone at the regional level? Or maybe someone at corporate?
Another consideration: can one person handle rerouting, or will it take a team? Quality is more important than quantity here, and the skillset matters. Smaller companies might have to bring someone with the right skills on board.
Rerouting frequency is another consideration. There are seasonal fluctuations, e.g., food deliveries to coastal towns during tourist season, and factors like new customer additions that can trigger rerouting. But aside from triggered rerouting, it's a best practice to reroute at set intervals. Some companies opt for quarterly, twice yearly or annual rerouting.
Ensure the data is sound, the rules are real and that you have buy-in
If you're implementing a new rerouting software, it can be tempting to input data that reflects an idealized better state rather than the baseline, which is how you run now. That's a mistake since you'll need a baseline to see how changes can impact your operation and measure progress going forward.
Also keep in mind the old data quality principle: garbage in, garbage out. Make sure data and rules on geo locations, delivery windows, restrictions (special equipment, last stop/first stop), unload rates, etc., are accurate. Are they real? Do they balance the needs of the customer, company and driver? These are important questions to consider.
Once you have a general strategy in place, the next step is to create buy-in and get those affected on board with the plan, and it starts at the top. Make sure leadership fully supports the change, and make sure the people who will be affected the most understand that the change will make life easier for drivers and distribution center employees rather than take away their jobs.
As you gather information to create routes, ask a lot of questions to define rules, and check every assumption. Once you've formulated routes, go over each carefully with the distribution center transportation team, route by route. Make sure you've covered every factor not addressed by rules and restrictions, and make tweaks as appropriate to finalize the routes.
Best practices for sustaining momentum
When your new routes are up and running, make sure you are using your software solution to its fullest extent to continuously improve. If you've input data from how you currently run to create a baseline, you can compare it to models emphasizing mile/truck/hour costs and create incentives to reach optimization objectives.
Finally, make sure you don't under-plan (leaving drivers with too much free time) or over-plan (leaving drivers overworked). There's more in-cab data now than ever thanks to compliance with the ELD mandate and other regulations, but you have to make sure you collect and use it.
The industry is changing, and the pandemic created new urgency. A rerouting strategy is a great way to stay ahead of the curve, no matter what comes next.
Watch our full webinar, Managing Change: Best Practices on How to Implement a Re-Route Strategy, and hear from experts and a customer on using these strategies to maintain cost-effective operations while adhering to customer-controlled delivery experiences.