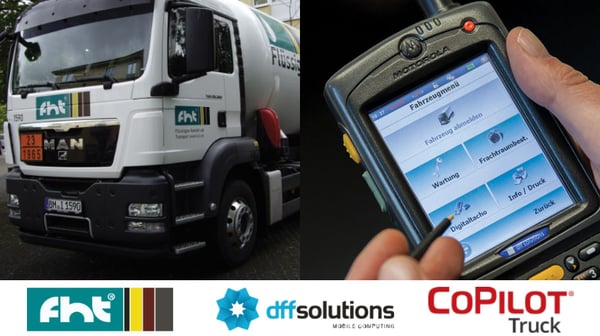 The sum is greater than the parts - A successful logistics solution is never just one tool, but a combination of assets working together seamlessly. In order to provide fleets with the best all-round system, ALK Technologies works with several partners across the globe. Thanks to our software integration capabilities, we deliver successful fleet implementations worldwide. Collaboration and integration are key in this process. One example that illustrates this, is ALK's collaboration with our partner, dff solutions, to create a comprehensive logistics solution for fht in Germany.
Who is fht?
Providing safe and reliable LPG (=liquefied petroleum gas) logistics to the highest standard since 1989, fht's (Flüssiggas Handel und Transport) fleet of more than 200 vehicles provides households, businesses and gas stations across Germany with DIN-compliant products.
What were fht's requirements?
Since fht's drivers transport hazardous materials to a wide range of customers across Germany, the company had very specific requirements for an efficient, safe and practical logistics system. fht's large and diverse customer base means the driver requires assistance when driving to customer sites. Therefore, the system was expanded to include CoPilot Truck GPS navigation. In addition to contract addresses, CoPilot Truck includes the facility to store and recall the exact position of the gas tanks to deliver to on site, leading to significant driver time savings. These were fht's requirements for the new system:
Document any damage at the customer's site

Acquire all the data from the existing measuring equipment

Navigate to the customer's site and specific on-site locations

Reduce the number of manually-created documents

Be easy to use by all employees
Voila...the solution!
dff solutions created a custom mobile computing framework integrating ALK's CoPilot Truck that is fit for purpose. The comprehensive solution delivers the following:
Connects to existing vehicle systems

Utilizes the integrated camera on the handheld for comprehensive damage reporting

Enables integrated truck navigation using both saved addresses and on-site lat/long coordinates

Documents all activity directly on the handheld device

Easy-to-use interface
Curious to find out more? Learn more about integrating CoPilot Truck into your solution or download the full case study here (also available in French and German)
ALK Technologies (now Trimble MAPS) is a transportation technology company dedicated to defining the optimal route to success through innovative routing, mileage, mapping, and navigation solutions.
Facebook
LinkedIn
Twitter