We know firsthand the power that implementing map intelligence with your commercial vehicle routing workflow can have on your operation. Our partners and integrators have seen this power too. We were called upon by a Transport Topics Top 100 For-Hire Carrier who operates a fleet of over 1,300 trucks to help them solve challenges that were unique to their business.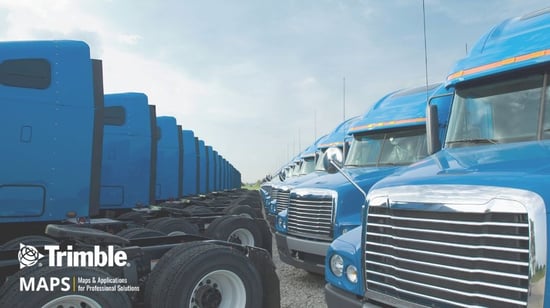 Specific Business Challenges
Their dedicated carrier and over-the-road divisions were struggling to calculate precise travel times and ETAs for priority lanes. On top of that, they were unhappy with the accuracy of arrival and departure event information that their back office was receiving. These struggles were due in part to their use of automated, circular geofence alerts around shipper facilities and manual driver input on their in-cab computers.
They knew that more precise ETAs would enhance their ability to provide superior customer service and that accurate arrival and departure events would improve their collaboration with shippers.
Solutions: Trip Management, Location, and Mapping APIs
We took a consultative approach with the customer to help them take full advantage of the Trimble MAPS development platform to address these challenges. By tapping into our powerful trip management, location, and mapping APIs we were able to create a custom solution to solve their problems.
Let's dive into what exactly we mean by trip management. We offer a dedicated service that uniquely maintains state of an individual trip, be it a short trip or a multi-day trip. Most every other mapping platform requires their customers to send complete origin and destination information every time they need to obtain a route ETA. Our trip management offering differentiates by allowing the user to input the trip information just one time. From there, a unique identifier is assigned in which the platform maintains state of that trip and automatically notifies the back-office of exception alerts such as ETA change from traffic and weather conditions or fuel and rest stop deviation.
Furthermore, instead of relying on the inaccurate, circular geofences or manual driver input - our customer incorporated our rich, curated transportation site and location content. By utilizing actual polygonal geofences and truck entry and exit gates, coupled with the platforms mapping and location APIs, they were able to accurately and automatically report exactly when trucks are entering or exiting the shipper facility.
Result: Accurate ETAs and Trip Visibility
Overall, the platform is now generating accurate visibility of ETAs, displaying arrival and departure information at sites, and is freeing up drivers from potentially distracting manual tasks - allowing them to focus more on doing what they do best, driving safely. It also provides a scalable opportunity to deliver incremental benefits over time, saving money across the long haul.
This use case can extend well beyond shipper facilities, to things like intermodal yards and manufacturing plants, truck stops, and even international border crossings. This creates interesting opportunities for customers, such as understanding where drivers stop for fuel and how long they stay there. This can allow for negotiation on fuel rates with fuel providers and truck stops. Analyzing the time at border crossings can allow for an improved ETA prediction and asset visibility for international movements.
As you can see, there are many ways to utilize a commercial vehicle specific development platform - learn more about trip management and our platform today. Watch our webinar below for more insights into business innovation.