We've always been inspired by truck drivers and how they keep America moving. That's why we do what we do - provide technology that promotes efficiency and safety on the road for those in transportation. But our partners and customers have proven just as inspirational with their efforts to support the transportation community over the past couple of months.


J.B. Hunt launched a new electronic Bill of Lading (eBOL) feature in its Carrier 360 mobile app that allows for BOLs to be signed electronically, reducing contact during the delivery process to abide by social distancing guidelines.
Roehl Transport has opened up its locations to any driver - providing access to amenities that may be more difficult to find in the current climate, such as showers, bunkrooms, washer dryers and ATMs.
And, not only is Estes Express Lines working with the Virginia Department of Emergency Management to distribute personal protective equipment to hospitals and first responders, they are also shipping 56,000 meals to food banks across the state of Virginia.
We're proud to be a part of this community. And to do our part, we developed a COVID-19 Safe Haven web app, free for anyone to use, that displays truck stop status and amenity information, where available. The goal is to help professional drivers and operational staff understand which locations are closed and which conveniences, like showers and restrooms, are open for drivers.
We're grateful to a number of technology partners that have shared our web app to reach as many drivers as possible. Companies such as Uber Freight, Trimble Transportation, Comdata, and Geotab have quickly jumped in to help drivers on the road.
Full Circle TMS, a web-based, transportation management software, has added access to our web app in both their Full Circle TMS application as well as their mobile app, Circle Mobile. "They made it very easy for us to quickly integrate their driver safe haven interactive map with our TMS and our driver mobile app," said Stuart Sutton, President and CEO, Full Circle TMS. "We all have a responsibility to minimize the impact of COVID-19 on the supply chain. Thanks to Trimble MAPS, giving drivers easy access to this powerful safe-haven tool helps meet that responsibility."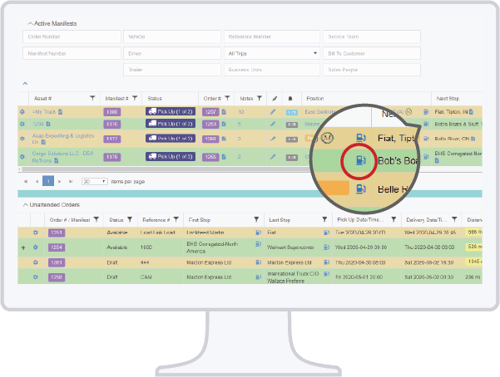 Dispatchers and drivers will see an "fuel" icon that will take them to the COVID-19 Safe Haven web app using the stop location (drivers can also use or their current location). It will show a map of truck stops and other safe havens with status and amenity information.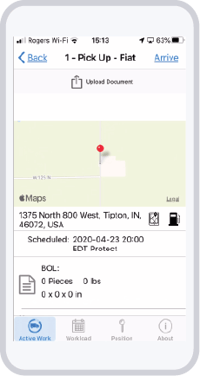 Michael Pettrey, president of C&M Transport, who utilizes Circle Mobile from Full Circle TMS reiterated the same feeling. "Our drivers move hundreds of miles a day carrying emergency supplies and food to keep our country running. Yet, an important part of their support mechanism, the network of truck stops with food, fuel, showers, parking and accommodation, are partially or fully closed. Using the COVID-19 app gives them peace-of-mind knowing the safe havens along their route as they complete their critical supply chain duties."
Transflo, a leading mobile, telematics, and business process automation provider, integrated the web app directly into their Driver Assist app, which is free for anyone to download. A link to the Safe Haven web app was also added to their Driver Assist Task Force dashboard, an online resource center for drivers and fleets regarding COVID.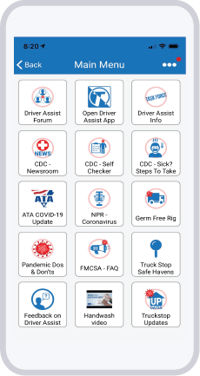 Help us continue to spread the word! Remember, our COVID-19 Safe Haven web app is free for anyone to use. Whether you're in transportation and want to share it with your drivers or customers, or if you are just planning a long distance road trip, you can use the Safe Haven web app.
We thank everyone for all they are doing each and every day. We strive to continue providing valuable data to our customers and partners to alleviate stress on the road.
Have ideas on additional data or functionality for our COVID-19 Safe Haven web app? Tell us here!