Trimble is honored to be featured by Comparably for - Best Company Culture, Best Company for Women, and Best Company for Diversity. Comparably's mission is to make workplaces transparent and rewarding for both employees and employers by providing insights into company culture, compensation, and more. We are thrilled to have made the list alongside other innovative and culture-driven workplaces.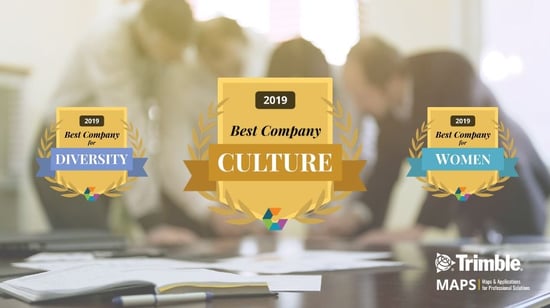 Best Company Culture
Comparably's awards are derived from ratings provided by current employees who anonymously rate their companies. Trimble took the 21st spot out of 50 companies for Best Company Culture - sitting among other tech giants such as Microsoft, Google, and Facebook. Winners were determined by anonymous feedback on a variety of workplace culture questions, ranging from office environment and compensation to leadership and work-life balance. The final data set was compiled from nearly 10 million ratings across 50,000 U.S. companies.
"A group of nearly 200 CEOs from the world's biggest brands, recently stated that shareholders were no longer the central purpose of today's companies. Employees are now the focus, which means corporate culture is too." - writes Rachel Montanez in the Forbes article covering the Comparably awards.
Best Company for Women
Trimble also sits alongside the top 50 Best Companies for Women, based solely on female sentiment ratings on a multitude of questions surrounding fair compensation, work-life balance, perks and benefits, leadership, career opportunities and more.
"It is important to understand the sentiment of women's experiences in the workplace, especially on topics such as fair compensation, career advancement opportunities, leadership, and benefits," said Comparably CEO Jason Nazar. "Many studies show that inspiring, encouraging and supporting all diverse voices and contributions is critical to business growth, creativity, and innovation."
Best Company for Diversity
Finally, Trimble brought home an award for being in the top 50 Best Companies for Diversity. With more than half of US workers thinking their companies are not inclusive enough, Trimble is proud to be included in the top 50 companies working to make offices more inclusive. Winners in this category were determined on ratings from diverse employees of color (non-caucasian) on a variety of 20 core workplace culture metrics.
Are you looking for a new and exciting career? Learn more about Trimble culture, compensation, and more on Comparably and join our award-winning team by visiting our career page.