On a daily basis, route planners are responsible not only for planning the movement of vehicles across various routes, counties, and state lines, but understanding how those routes impact the bottom line. There are so many variable factors in planning - from distance, to drive-time, to delivery and pick-up windows. Operationally, there is lane analysis, rate negotiation, and driver pay. Thus, it is crucial to know the complete transportation cost of that route for operational success.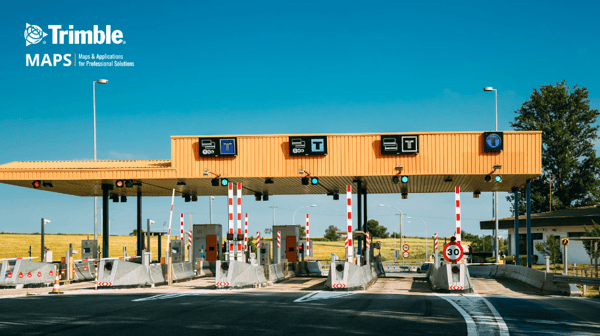 Every mile that you can keep off your truck's odometer is money added to your bottom line. Optimizing for the best route is imperative in determining your route cost. Here is ATRI's breakdown of the average trucking cost per mile. If you run the numbers, you will find that tolls make up about 2% of the total cost per mile. This adds up quickly!

As each region has its own toll system, currency and toll structure - calculating toll costs can become increasingly difficult. Understanding and analyzing those costs are extremely important to alleviate the difficulties in rate determination.
The Global Impact of Tolls
With more than 70 percent of annual freight tonnage in the U.S. traveling via roads, it is clear why financing their construction and maintenance is an extremely important topic for the transportation industry1. Tolling is a viable way to fund and finance highways, bridges, and tunnels that move our economy and get drivers where they want to go. Since the federal gas tax was last raised in 1993, state and federal government officials are increasingly looking for ways to fund the nation's transportation infrastructure challenges.
Several countries in the European Union (EU) have toll systems in place for commercial vehicles. Germany and Spain are two of them — each using a distinct approach due to their differences in infrastructure and freight volume2. Tolling systems have had significant industry impacts in the EU, Germany's lower rates for vehicles with better environmental standards has led to a higher percentage of fuel-efficient trucks. Spain has seen a drastic cut of up to 50% on predicted traffic times, improving their Logistics Performance Index (LPI).
How Using a Tolls Solution Can Help
Determine the most effective trip plan for your business by comparing distance, drive times, and toll costs
Improve road network and lane analysis to ensure accurate quoting and bidding
Receive frequent toll rates updates to ensure you're operating on the latest prices
Generate precise toll costs based on a vehicle's weight, dimensions, axle count, and trailer count
Understand toll costs for each segment of the route, as well as a summary of the toll information, by country, state or region
Use cash or discount programs when generating costs of routes
Audit toll costs
Consolidate tolls into a single currency of choice removing the complexity of exchange rates
Knowing the complete cost of a route can be extremely difficult, but it is clear that incorporating toll costs into your route plan is essential in understanding the whole picture. This is all part of the equation when optimizing your operation, the key here is to understand that incorporating toll costs can be a major factor in increasing your bottom line.

1 https://static.tti.tamu.edu/tti.tamu.edu/documents/0-6737-1.pdf
2 https://arcb.com/insights/the-logistics-of-road-tolls-how-tolling-impacts-the-transportation-industry