Bridge strikes are a serious problem for the industry. Not only can they lead to injuries and fatalities, but they also cause damage to infrastructure, interruption of commerce, and delays in travel times. The good news is that most industry insiders believe that bridge strikes are entirely avoidable.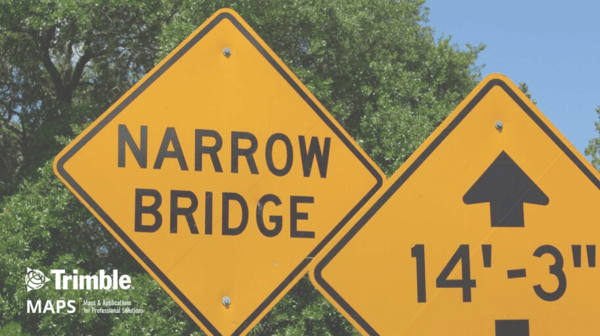 A Global Issue
In the UK, Network Rail claims that, on average, five avoidable bridge strikes take place every day. That figure increases to ten strikes a day during peak delivery time around holidays. These collisions cost a staggering £23 million a year for taxpayers. Further research shows that 43% of lorry drivers admit to not measuring their vehicle before heading out on the road, while more than half (52%) report not taking low bridges into account in their route plan.2
In the US, New York State created a $25 million state bridge strike prevention fund in the annual budget.3 Citizens and lawmakers alike are calling for enhanced signage, bridge lighting, communications improvements, and installation of over-height detectors. The King Street Bridge in Westchester County, NY has been hit almost 150 times in the last 10 years - more than any other bridge in the state. Last year alone it was struck 24 times causing massive delays for drivers stuck behind them. Most of the drivers who struck the King Street Bridge were navigating their routes with non-commercial vehicle specific systems.3
N.Y. State DOT Commissioner Marie Therese Dominguez says the state is using a "Three E" approach. "Engineering, education, and enforcement - it takes all three." Besides liability and property damages, the failure to comply with a posted route restriction carries a maximum penalty of $11,000 for a company and $2,750 for a driver in the United States.
Using the Correct GPS Technology
The Federal Motor Carrier Administration (FMCSA) does not specifically track statistics on bridge strikes caused by GPS devices, but NY Senator Charles Schumer claims that using the wrong type of GPS device caused 80% of bridge strikes last year.1 One reason this is such a problem is because not every GPS unit is created equal. Some models are designed only for regular passenger vehicles. A commercial vehicle driver using one of these models won't always have access to information that is pertinent to the size of their vehicle. Commercial vehicle drivers must ensure that they are using a GPS that has been designed specifically for commercial vehicle routing.
Simply purchasing the device is not enough to ensure safe travels. Commercial vehicle drivers must also input their vehicles length, width, and axle weights into the unit. They must also make sure that the maps in their GPS are up-to-date.
5 Tips from the FMCSA
For commercial vehicle GPS systems, FMCSA offers the following tips1:
Select an electronic navigation system intended for use by truck and bus drivers.
Before drivers begin their trip, they should type in all relevant information about their vehicles, so the system can provide the appropriate route.
Follow the route recommended by the navigation system, but ALWAYS obey traffic signs and advisories (such as low bridge overpasses, axle weight limits, detour signs, etc.).
Do not engage in distracted driving. Avoid typing or entering addresses or information into the navigation system while driving.
If your navigation system does not provide automatic updates of the maps, be sure to obtain updates to ensure you are following the most current route planning information.
As Piers Burford, project manager for Network Rail, so aptly said: "Bridge strikes are entirely avoidable, cost taxpayers millions of pounds and cause delays to tens of thousands of rail passengers every year." Making sure your drivers double and triple check that their maps are updated, their GPS is commercial vehicle specific, and that they are alert and following all road signage are great ways to increase safety and decrease bridge strikes.

https://www.fmcsa.dot.gov/faq/Bridge-Strikes-%26-GPS1
https://gb.snooper.eu/blog/Trucks-hitting-bridges-becoming-a-national-problem/2
https://dailygazette.com/article/2019/09/19/dot-to-look-at-glenridge-road-bridge-strikes3