In honor of the first official day of summer ALK Technologies employees had some fun in the sun at our 2nd Annual Field Day! From trivia to relay races, there was a little something for everyone.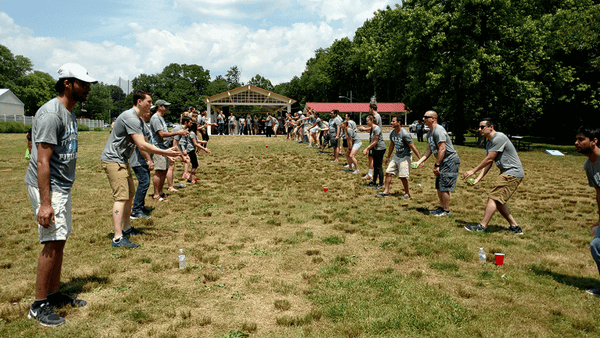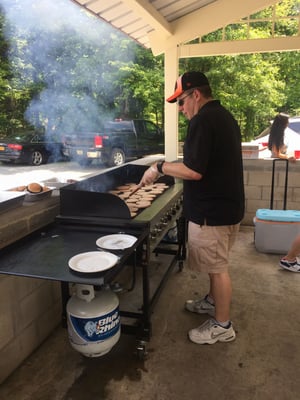 ALKers arrived to the Princeton Country Club Park to find ALK's very own executive vice president and general manager, Michael Kornhauser manning the grill. Along with CoPilot project manager, Bill Kott, our grillmasters covered everything from hot-dogs to mac'N'cheese with Michael supplying his very-own extra spicy chicken kebabs (that left many running for the water-bottles).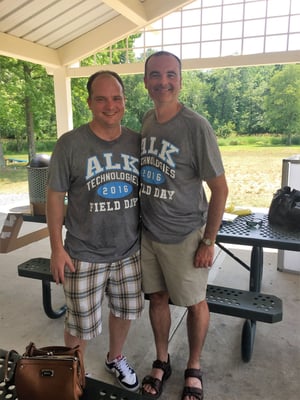 The day continued with a balloon water toss, corn-hole and wiffle ball tournaments, a relay race, trivia and an iced tea ice-cube tray relay, each filled with laughter and excitement. Caroline Connell, marketing specialist, noted how she enjoyed the opportunity these activities gave to bond with everyone from different departments. "It's not everyday that I get a chance to see or spend quality time with my colleagues. Watching them attempt to hop around in a potato-sack was truly priceless!"
This day also marked a special occasion for our vice president of sales, Bill Maddox, who was presented with a plaque of gratitude after 20 years of service with ALK. With many mentions of Bill's career path beginning as a chicken-wing delivery man, it was truly a heart-felt moment to acknowledge Bill's many accomplishments. Bill's has spent his two decades at ALK establishing and growing PC*MILER into the industry standard routing, mileage, and mapping software it is known for today. Thank you, Bill!
Finally, and arguably most importantly, a big thank you to Tina Loftus and Marc Stewart. Without the two of you many spectacular events like Field Day would not exist. All your time and effort is greatly appreciated throughout all of ALK!