At ALK we are in full event and trade show mode! Our teams are busy connecting at industry events around the globe while our developers are working on the next innovative features to propel your business. Read some of our September highlights below:
Driver Intent & in.sight
At the beginning of the month, our US team attended TMW's and PeopleNet's in.sight user conference and expo in Houston, Texas. Our ALKers not only took part in numerous of the 300 educational sessions that were available to attendees, but our very own Dan Popkin, Senior Vice President, Enterprise Solutions, held a session on how to empower drivers through technology. Read more here >
A very innovative opening session to #insightuc ! Our very own Dan Popkin took the stage and introduced our new Driver Intent innovation @TMWSystems pic.twitter.com/oc5LBp5nVo

— ALK Technologies (@ALKTech) September 10, 2018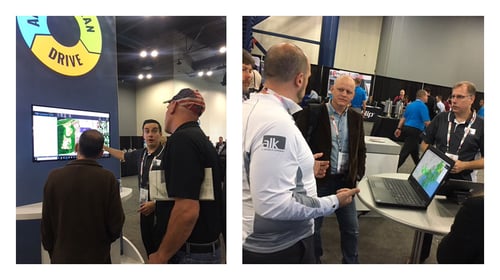 Last Mile Delivery
Do you want to enhance your parcel delivery performance? Optimize your last mile by implementing a planning, route optimisation and analysis solution that secures last mile performance while simplifying process and motivating delivery personnel. ALK and our partner Pocketmobile provide tools for every step of the pickup and delivery process. Read more here >
PC*MILER 32 Press Release
We have now officially announced the release of PC*MILER® 32, the latest version of its PC*MILER truck routing, mileage and mapping software. Read the full press release here or get a 15 day free trial to see the updated product in action.
Hurricane Florence
Unfortunately September brought with it the first big hurricane of the season for the East Coast. We offered complimentary Premium access to our PC*MILER Web app to help trucking businesses plan their routes with weather, radar, road conditions and traffic display.
Important Notice - Hurricane Florence: With the Eastern coast of the US impacted by Hurricane Florence, we're offering you complimentary access to the Premium level of our PC*MILER Web application for you to plan around the traffic and ...https://t.co/c1H3thL1Tv

— ALK Technologies (@ALKTech) September 14, 2018
IAA For Commercial Vehicles
Our German team had a great time at IAA Commercial Vehicles 2018 in Hanover. They connected with partners and customers and showed how CoPilot Truck and ALK Maps can drive a transportation business forward;

👋 🚚 Only two days until IAA Commercial Vehicles 2018 in Hanover! Make an appointment now at https://t.co/rxzyTdU6v4 to find out how we drive innovative transportation technology and mobility solutions forward #iaa18 #iaanfz pic.twitter.com/I8kdvja9QD

— ALK Technologies (@ALKTech) September 18, 2018
Meet Us
If you happen to be at one of these upcoming events, please drop by to say hello. Our experts will be happy to speak with you: