Fleets are always looking to enhance their operations, particularly in the last mile - and even more specifically at the pick up or delivery location itself. In many cases, "pins" of locations on digital maps are off by more than 0.5 miles, and public addresses are often applicable to the auto entrance at a facility, and unsuitable - and unsafe - for trucks.
Providing drivers with navigation that guides them to a location's precise entry gate is the first step in reducing dangerous vehicle maneuvers and wasted time. Our commercial map data that feeds our turn-by-turn commercial navigation solution contains tens of thousands of verified*, predefined commercial "Places," built with precise geofences, or boundary polygons, and truck-specific site entry and exit gates. If known, we also provide any attributes of the location, like its hours of operation, telephone number, and available amenities.
Recently, we made available the option for fleet managers and dispatchers to customize our "Places" data specific to their business needs, like:
Your own Place ID. This string value is in addition to the TrimblePlaceId assigned by Trimble MAPS. It can be a more "human readable" value, such as your company's existing shortcode for the location.

A website

A phone number

Operating hours for each day of the week

Comments about location (internal notes for the planner/dispatcher)

Custom Entry/Exit Paths to Gates

Custom Gate Notes (for driver guidance during navigation)
Here's an example of how it can work for you:
We have verified one of your customer's distribution centers in our data with a precise boundary polygon and truck entry gate that your fleet frequents on a regular basis. Over time, you've gathered information, such as the road they'd like trucks to enter on, a contact name, seasonal hours, etc. that you are maintaining locally. Now, you can enter those details into our companion web tool called ContentTools, and generate and dispatch routes using your specific information. Note: Any custom information will remain private to your company or account.
Once in ContentTools, find the location with the "Verified Place" label and click on the "arrow" to open the "Places Detail" panel. Then, click on the pencil icon to edit the information.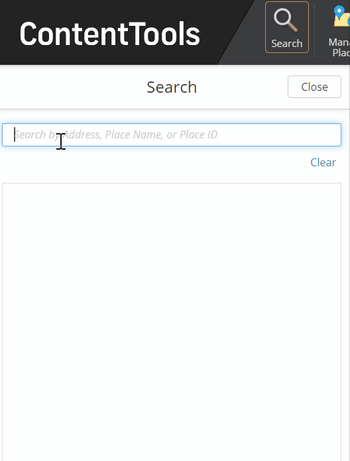 Besides the basic information, you can add comments about the location for reference, set a preferred approach or depart path for your drivers, or even add Driver Notes for additional guidance at the gate which will be read aloud and displayed as a pop-up during navigation, for example "Go to Gate 4" or "Overnight parking allowed".
For the ultimate fleet and driver experience, ContentTools syncs with CoPilot so that when drivers are routing (and being guided), they are using the specific site details and information provided by you.
For our step-by-step tutorial, and to see this live in action, check out our comprehensive article and video.
For a demo with a real-life example, watch our "Best in Show" FreightWaves 7 minute showcase here.
By utilizing verified commercial location data, fleets can get more precise miles and ETAs, boost productivity, and give drivers the guidance they need - down to the right gate.

*How are these Places verified? Our dedicated team of GIS engineers validate all location data using the latest imagery technology and data sources.