How far would 490,000 miles/ 783,500 kilometres take you? It's the distance between the Earth and the Moon and back (!) and also the amount of road miles/kilometres we added to the European data set in our latest map update. We regularly improve our maps in Europe to help your business operate on the latest road network available. Find some notable enhancements and highlights below: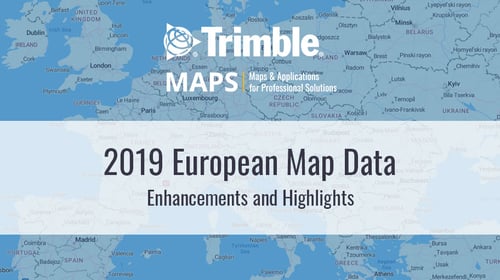 European Map Data Enhancements
Comprehensive updates to the road network in UK & Ireland, France, DACH and the rest of Europe
Over 490,000 miles/ 783,500 kilometres of road added to the European road network
Over 805,500 Places and 44,500 postal codes were added in Europe
Over 32,400 miles/52,200 kilometres of road with commercial truck restrictions including height, weight, length, width, and hazmat restrictions added across Europe
Updated historical road speeds across Europe for improved routing and ETAs
Truck speed limits added in 13 European countries including the Czech Republic, Denmark, France, Hungary, Italy, Liechtenstein, Norway, Poland, Portugal, Slovakia, Spain, Sweden & Switzerland for improved driver safety, compliance and ETA calculations
Reduced speed limits in Spain from 100 km/h to 90 km/h on conventional roads and 40 km/h to 30 km/h to ensure compliance
Postal codes introduced for Albania, Belarus and Svalbard Islands
Our maps are designed for commercial vehicles and we're committed to ensuring every driver and vehicle on the road has access to the best possible routing and navigation.
NOTE: Data updates may be made available in different Trimble MAPS products at different times. The type of data and region available to you also depends on your licensing. Please get in touch with your Account Manager or contact us if you are unsure of your data licensing.