We have just released a new CoPilot update, which brings enhanced navigation, routing, guidance and ETAs to help maximize fleet safety, compliance and efficiency.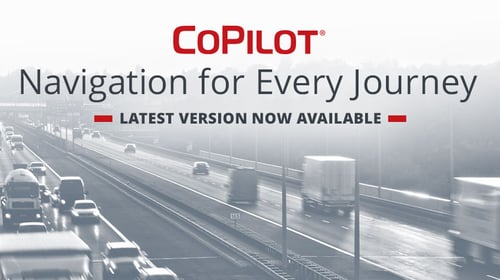 New Feature Highlights:
Side of Street: Find the optimal route to the same side of street for every stop on route for improved ETA calculations and driver safety

Map Routing Views: Ability to configure a driver's map view to display colour coded routing to the next and subsequent stops

ETA Alerts: New API functionality to indicate a driver's performance versus their schedule - early, on time or at risk of being late*

Sites: Improve routing accuracy and driver guidance by defining a site location, entrance and exit points. Boost customer service by communicating important location-specific information directly to a driver - right at the point of arrival.**

Driver Map Feedback: Have drivers provide direct feedback inside CoPilot to help enhance map data**

Place ID Search: Avoid idle wait time by having drivers search and add stops directly to their trip using a unique Place ID**

School Bus Vehicle Routing: Convention School Bus (48-foot) and Small School Bus (29-feet, 6 inches) routing profiles that help to ensure U-turns are prohibited and the route safely adheres to the side of street for student pick ups and drop offs.**
Truck Specific Features:
Driver Alerts: Advance warning for low bridge ahead if a driver's vehicle would exceed height restrictions when driving out of route**

Truck Speed Limits: Updated speed limit data to keep drivers safe, compliant and within the maximum speed limits*+

Governor Speed: Set a maximum speed for a driver's vehicle within truck routing profiles for a precise ETA*

Tunnel Codes: Improved driver guidance with tunnel category codes displayed on the map to show the type of hazardous goods that can be transported safely* Europe only***
We have also enhanced some of our existing features:
Motion Lock Modes: New API brings options to minimise UI interactions and driver distraction

Improved Guidance Instructions: Greater clarity at Complex Turns, Lane Divergence, Merge, Stay on Road, Turns vs. Ramps.

Enhanced Advanced Optimisation: Uses historical traffic when calculating an optimized route*

50+ New API function calls: Available across CPIK and SDK integration tools including routing profiles, road speeds and trip APIs

Accurate Routing and ETA: Refined attributes to generate a precise ETA such as side-of-street routing, ETA alerts, governor speeds, and stop information


For more detailed information on this update, please view the Release Notes. To implement the newest version of CoPilot for your fleet or integrated solution, please contact us here.

*Requires additional licensing
**North America only
***Europe only
+Coverage may vary by region/country